With Property Council's new Constitution coming into force from 1 January 2021, we have commenced a new era of governance for the organisation.
As part of this change, Property Council adopted a transparent and streamlined approach for nominating and electing members to each of our national and regional committees. 
Members are able to nominate themselves for committee positions by completing the online nomination form below. Depending on how many positions are available and nominations received for each of our national and regional committees, there may be an online vote held via email. 
Nomination and election results for the National Board and all Committees will be announced at the AGM on 28 September. 
Committee members are volunteers that help shape our advocacy, networking and events, and have built the strong brand that Property Council is today. The benefits of belonging to a national or regional committee and representing Property Council include: 
Demonstrating leadership within your organisation and your industry.

Providing insight into important issues that impact the property industry as well as your organisation.
Working with and learning from your peers; building constructive relationships based on mutual interests.
Formulating and presenting your position on issues and to learn from others' perspectives.
Demonstrating expertise and experience through involvement in substantive issues.
Increasing the profile and professional development for you and your organisation, and Relationship building with other Committee Members and stakeholders such as Government representatives.
2022 marks the first year where all committees will be open for nomination.
Those nominees who are elected to committees this year will serve a two-year term from 1 November 2022 to 31 October 2024). Each committee can have between 5-15 members.
Vacancies open for nomination:
Retail Committee | 6 available seats
Diversity & Inclusion Committee | 5 available seats
Auckland Regional Committee | 6 available seats
Central Regional Committee | 7 available seats
Wellington Regional Committee | 7 available seats
South Island Regional Committee | 7 available seats
National Board | Click here for details
Nominations will be open from Monday 1 August - Friday 19 August 2022.
Nominate Now
1 August 2022
An online election will be held for any committees with vacancies. 
Voting will be held in late August/early September 2022 and all designated voters will be sent their voting papers via email.
Please contact Rona Miller should you have any enquiries.
29 August 2022
Annual General Meeting
The Property Council New Zealand Annual General Meeting 2022 will be held as both an in-person and virtual meeting. Please save the date in your calendar:
4:00pm, Wednesday 28 September 2022.
28 September 2022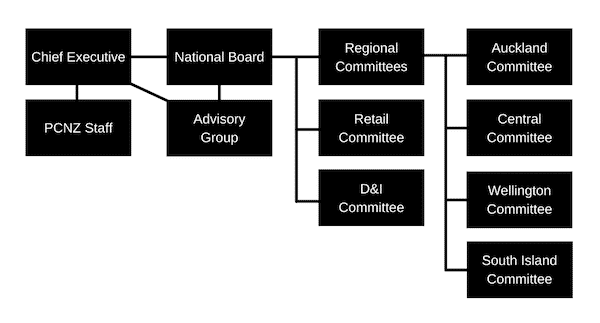 For all enquiries about the election process, please contact:
Rona Miller | Head of Operations | rona@propertynz.co.nz