Security for the next chapter
In many ways it feels like 2020 and 2021 were a fleeting moment in history, with New Zealand (as with much of the world) either locked down or restricted as we rode the COVID wave(s). We entered the new financial year with trepidation, having learned our lesson over the past few years not to get too far ahead of ourselves.
As of 1 April 2022, New Zealand remained in Red of the Covid Protection Framework (CPF) and COVID case numbers had reached a daily average of 14,000; indoor gatherings were capped at 200 people, the requirement for contact tracing had eased and vaccine passes and mandates were about to be made redundant. By mid-April we would move to Orange of the CPF, allowing us to start planning events for the second half of the year.
Fortunately, we'd spent the last couple of years putting the Property Council house truly in order, so that when restrictions eased, we could hit the ground running with lightning speed, hosting 51 in-person events in just 11 months, plus nine webinars.
This swift return to business-as-usual has resulted in a strong financial surplus of $870,656 for FY2023. As a not-for-profit organisation, every dollar of this surplus is reinvested in the business, with a majority being kept in reserves to meet our Financial Resilience Fund target of $2m.
Thanks to this surplus, and the support of a handful of Industry Leaders, we have achieved $2m in reserves as of 31 March 2023, smashing our five-year target with two years to spare. With this fund now secure, Property Council can finally invest in other areas of the business, with plans to expand our services and offerings already underway – watch this space!
We wrap up the 2023 financial year with great momentum. Despite the forecast economic downturn, we have faith that any recession will be brief and that our organisation and our membership have planned for tighter times. While we never truly know what waits around the corner, the cyclical nature of property means those who have been around for a few years should be well prepared for whatever lies ahead.
As always, the Property Council team is here to support you as we continue to champion New Zealand's largest industry.
Nga mihi.
Scott & Leonie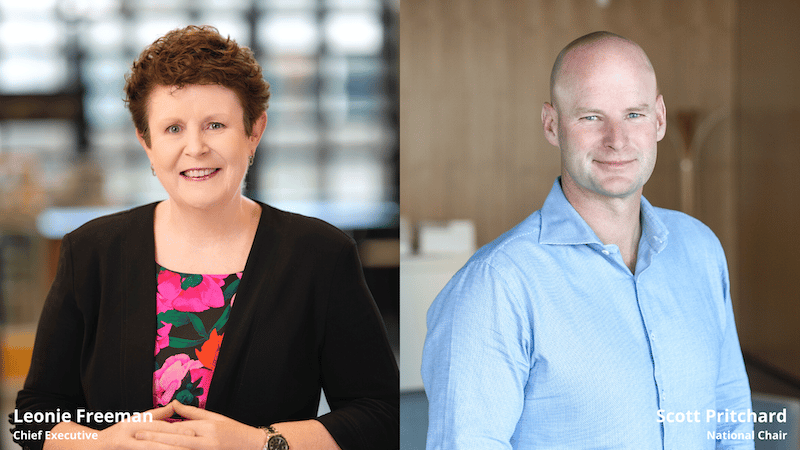 E ngaki ana a mua, e tōtō mai ana a muri.

First clear the weeds, then plant.