The countdown is on for The Property Conference 2023, with just 27 days to go until we'll be welcoming you to the sunny Gold Coast for three days of epic networking, exceptional presentations and exciting site tours!
With Tour One now fully booked, we have added a second to the agenda – a behind the scenes look at the RDX Lumina, a health and research facility being delivered was part of Lumina, the Queensland Government's 9.5 hectare development dedicated to growing the life sciences, health and technology-related businesses within the Gold Coast Health and Knowledge Precinct.
Across eight levels, RDX will offer premium amenities including end-of-trip facilities and rooftop terraces, as well as a range of flexible accommodation solutions for a variety of users, and 181 car parking bays. The facility is anticipated to be inter-connected to the Gold Coast Private Hospital via a bridge link and is strategically located in the heart of the Gold Coast Health and Knowledge Precinct.
With a strong focus on sustainability, the architecturally designed building features a full-height glass façade system and vertical helix atrium, creating vast open spaces on each floor and maximising natural light.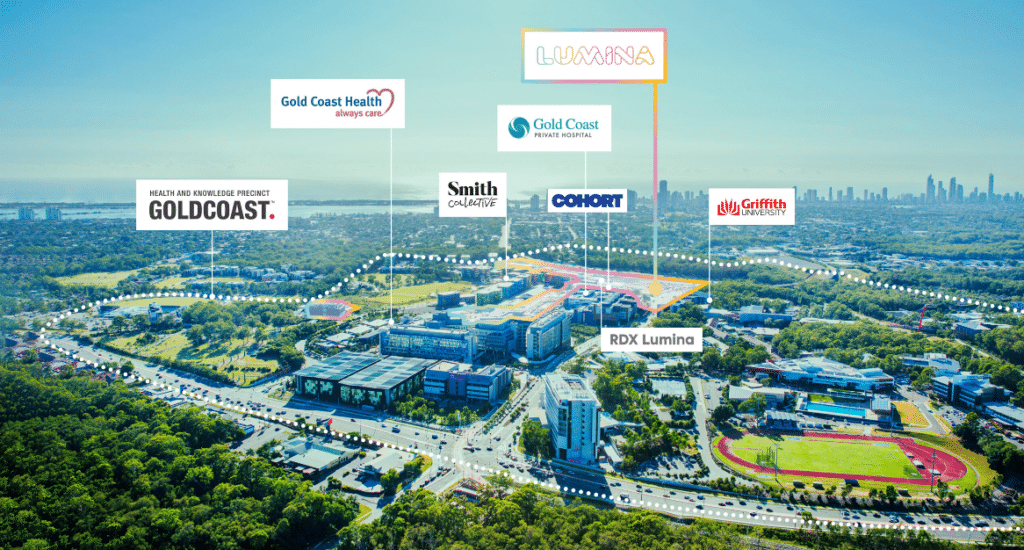 The new research and development centre will cater to health science, medical research, digital health and advanced technology-assisted health services.

In addition, the building will provide high-quality solutions for specialist medical consulting suites and collaboration spaces.
Providing 12,000 sqm of space for lease with a proposed bridge link to Gold Coast Private Hospital, the building will cater for partial and whole-floor uses with tenancies ranging from 100 sqm to 2,000 sqm.
Developed by NorthWest Healthcare Properties, the project is targeting a 6-Star Green Star rating, setting the standard for healthy, resilient, positive buildings. As such, the facility will be designed as an all-electric carbon-neutral building in line with Northwest's unwavering commitment to delivering solutions that build long-term, sustainable value.
This is a truly unique opportunity to get a sneak peek at one of Australia's most exciting and sustainable healthcare developments.
Register now!
Less than one month to go to The Property Conference 2023 - don't miss out!
Get your ticket