The property industry, and property developers in particular, get a bad rap in the court of public opinion. Between harsh headlines and the odd vocal button pusher, it's fair to say the public perception of those who fund, build and create our cities is not always favourable.
Enter Mark Dunajtschik, an unassuming man from humble beginnings who started investing in property as a retirement hobby in the late eighties. Mark has now pledged a remarkable $100 million for two key Wellington health projects; the first a children's hospital and the second an extension of Hutt Hospital's mental health unit.
Mr Dunajtschik came to New Zealand as a toolmaker in 1958 to make a new life after an extraordinary plight that saw him imprisoned by Yugoslav forces in a concentration camp in Knicanin, along the Danube River, before eventually escaping to Austria, then Germany. There he trained as a toolmaker, before spending five years travelling the world and deciding to make New Zealand his home.
After a few months on Kiwi soil, Mark established Precision Grinders, running the business successfully for 28 years. After retiring in 1987, he dabbled in property investment and development as a hobby, quicky accumulating and adding value to commercial and residential property around central Wellington, developing his unique, hands-on formula for success. At its peak, his portfolio included more than 40 commercial and residential properties.
As Sir Bob Jones once famously quipped, "all property developers go broke and the only exception he knows is that bugger Mark Dunajtschik, and the reason he doesn't go broke is because he keeps his property."
Not only does Mark have an exceptional story, but he has also added extraordinary value to the Wellington community.
His legacy includes properties such as Environment House, the James Smith Building, the Harcourts Building, HSBC Tower, and the Asteron Centre. Mark has also been benefactor for many charitable organizations including a helicopter service in 1975, which eventually morphed into the present Life Flight Trust, the Graeme Dingle Foundation and disability provider Hohepa, amongst other community causes.
More recently, in 2017 Mark and his life and business partner Dorothy Spotswood gifted the new $50 million-dollar Te Wao Nui Children's Hospital to Capital and Coast District Health Board, the development of which he personally oversaw.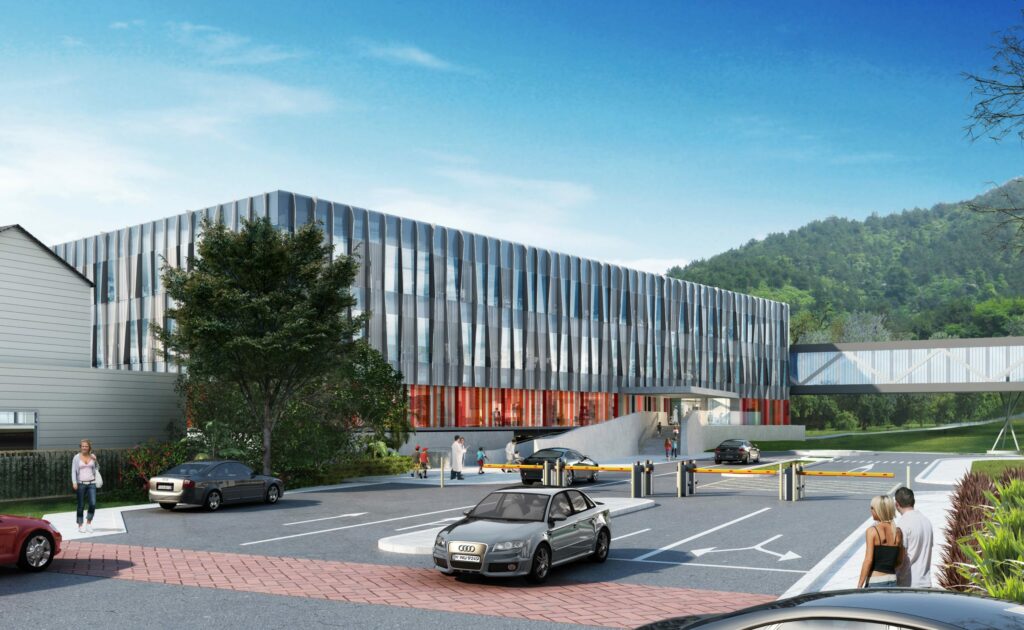 The children's hospital was officially handed over to the Board in April, after five years and over $100 million in investment. On top of Mark's donation, the Government contributed $45.6 million while the Hospital Foundation raised $10 million to fund equipment and fitout. The hospital will officially open to the public in late 2022/early 2023.

A hands-on developer, Mark and Dorothy are a staff of two, despite being millionaires many times over. Dunajtschik does much of the maintenance on their buildings with his own two hands, while Dorothy has been known to try her hand at concrete placing. They lease all their own properties and manage all their tenants themselves in a partnership spanning 60 years.
In 2020, Mark was awarded the Property Council New Zealand Member's Laureate Award for his contribution to the organisation, the sector, and the community. On the evening itself, 1,600 attendees sat in respectful silence as his story was recounted, with many brought to tears by his extraordinary legacy.
Last week, it was announced that the couple would be donating an additional $40-$50 million towards an acute mental health unit at Hutt Hospital, expanding the unit's capacity to 34 beds.
It is reported that Dunajtschik has a particular empathy for people with mental or physical disabilities, having lived in a home for the intellectually disabled while he was doing his tool-making apprenticeship.
While politicians gushed over their extraordinary generosity, Mark and Dorothy, now in their eighties, continued about their business as they always do, flying under the radar, making Aotearoa a better place without fuss or fanfare.
May we all take a leaf out of their book.