Best in Category winner of the RCP Commercial Office Property Award at the Property Council New Zealand Rider Levett Bucknall Property Industry Awards in 2021, The Landing marks the commencement of an enduring partnership between two iconic New Zealand brands – Auckland International Airport and Foodstuffs North Island. The aim is to deliver a transformational environment for Foodstuffs North Island store owners, customers, supply partners and employees, while creating a flagship investment.
For Auckland Airport, the development was integral to its long-term strategy to expand its customer base, while maintaining its vision of The Landing being the country's pre-eminent business park.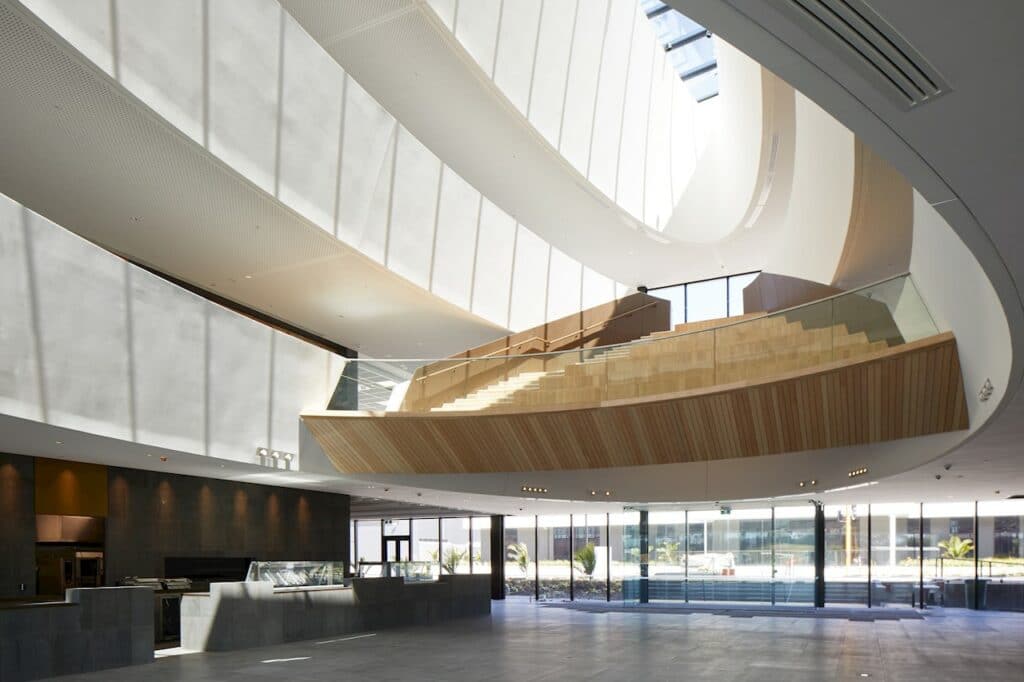 And the result? A transformational environment for Foodstuffs staff and visitors alike. Meeting the landscape at its extremities, the expansive curved fascia and soffit combined with a fully glazed facade present a bold, sculpted presence. Terraces are accessed directly from the level-one office space and landscaped paths lead down to the surrounding land.
This striking design, teamed with sustainability and operational efficiency at the forefront, serves to enhance The Landing's already world-class reputation. The 15ha Landing Drive greenfield development comprises a 8500sqm head office, which sits on 2.8ha, plus a 77,500sqm distribution centre.
Building information modelling was key during the construction phase, and being able to use this technology to assess and plan building tasks meant elements were built once and built right.
From the outset, sustainable practices and renewable solutions were priorities, and integral to balancing project constraints. An integrated base-build and fit-out project, the facility has achieved a Green Star 5 Rating. A Green Star 6 Build Rating is now being worked towards.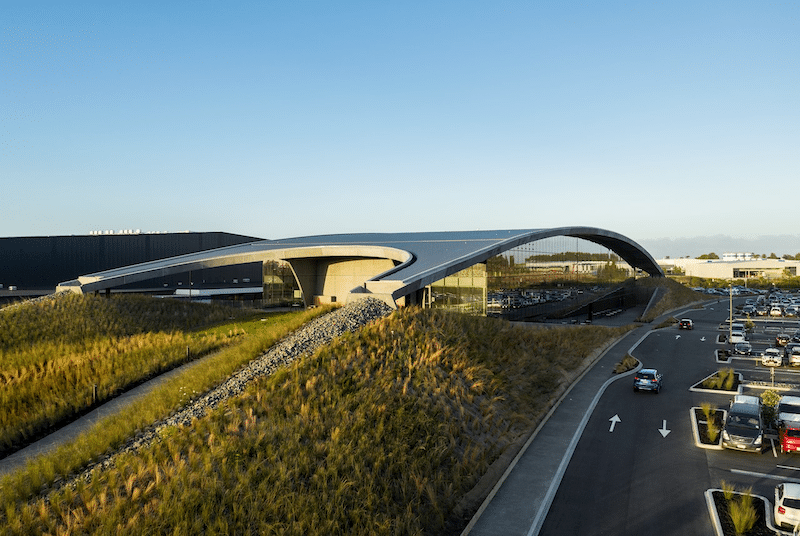 The design recognised Foodstuffs' long-term commitment to the site, so selection of materials had to be robust yet beautiful. All were approved by the Green Star consultant who assessed their contribution to the target rating.
These aspirations illustrate the fundamentals of the relationship between Foodstuffs and Auckland Airport – trust, collaboration and an aligned desire to achieve excellence, says Daniel Byrne, head of property development Auckland International Airport.
A range of sustainability measures were considered and assessed for design impact. This informed decisions related to solar performance, heating and cooling loads, thermal efficiency, rainwater-harvesting capacity, interior lighting levels for wellbeing, energy-saving and planting density.
Rainwater harvested from the building's roof is used for toilets and all plumbing fixtures are low-flow products. A 6000sqm photovoltaic array was installed on the adjacent distribution centre's roof, offsetting 100 per cent of the office's electricity needs.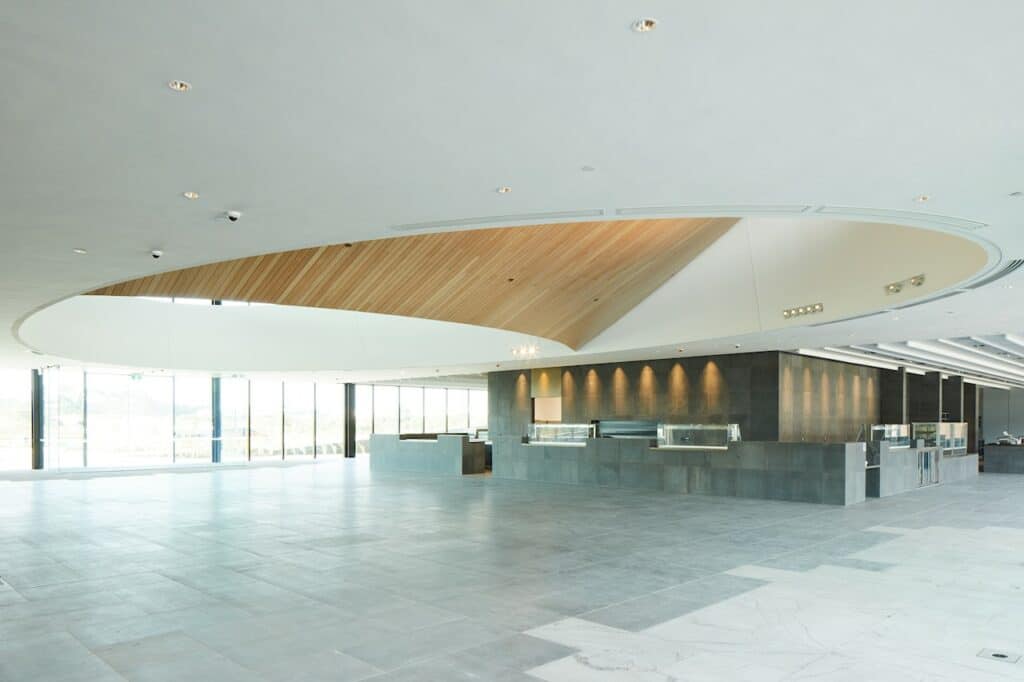 From an urban design standpoint, all the ingredients necessary for a special building were available for the project – a location within a world-class, master-planned business park; a flat, north-facing site with multiple access points; and unimpeded elevated views over the Oruarangi estuary and reserve.
The architectural vision was clear. The office design pushes the boundaries and reflects the shared vision for a landscape-integrated building that connects Foodstuffs with the land, as growers and producers.
Inside, the building is designed for flexible working practices. Staff – as the most important user group – have conveyed a huge sense of pride in the knowledge that they are working within an environment at the leading edge of sustainable design.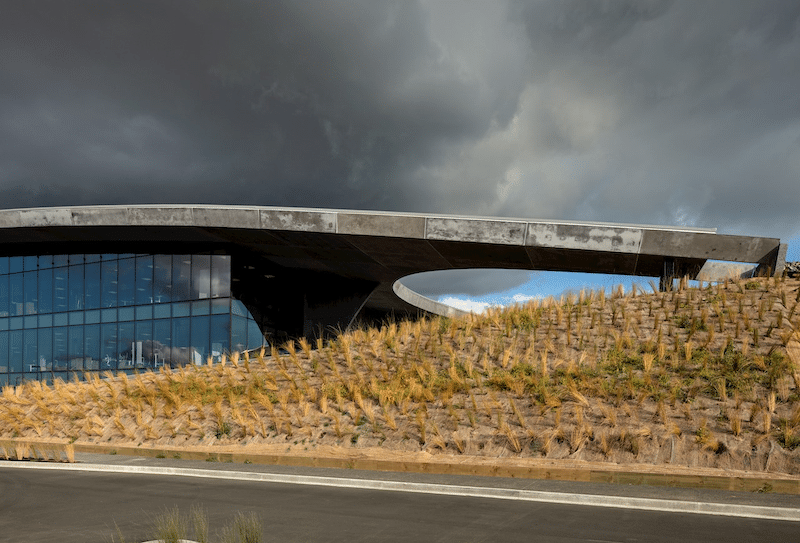 This ambitious project, the owners are delighted to report, was delivered three per cent under budget and four months ahead of schedule. "Auckland Airport Property is committed to sustainable development, not just in the physical built form, but insofar as developing places for businesses and their people to thrive," says Byrne.
"In Foodstuffs we have a partner who shares these long-term values. The driver for Auckland International Airport was to create a transformational environment for our customer Foodstuffs North Island and their staff, with leading-edge sustainability at the forefront," he adds.
The plan also benefits the wider community. "The Landing is 150ha in total, 20ha of which will be dedicated to public spaces, with cycle paths and walkways integrated throughout."
The vision, however, remains singular – for The Landing to be New Zealand's leading industrial business park. Auckland Airport believes that in addition to top-notch facilities, businesses need a location that offers staff world-class amenity and recreational space.
"Foodstuffs North Island is the latest in a long list of businesses that have seen the value of locating to such an environment," says Byrne.
FOODSTUFFS NORTH ISLAND
Landing Drive, The Landing, Māngare, Tāmaki Makaurau Auckland
OWNER, DEVELOPER AUCKLAND INTERNATIONAL AIRPORT
CONSTRUCTION HAWKINS, MACRENNIE COMMMERCIAL CONSTRUCTION
ARCHITECT MONK MACKENZIE, ECLIPSE ARCHITECTURE
SERVICE ENGINEER ECS
STRUCTURAL ENGINEER BGT STRUCTURES, DAY CONSULTING
MECHANICAL ENGINEER ECUBED
QUANTITY SURVEYOR RIDER LEVETT BUCKNALL
PROJECT MANAGER TSA
OTHER CONSULTANTS ASSEMBLE (BIM), PROTECH (FIRE PROTECTION)
Be part of the biggest night in property
Tickets to the 2022 Property Council new Zealand Rider Levett Bucknall Property Industry Awards are now available