The Central Property People Awards were celebrated on Thursday 10 November with 350 guests gathering at Wintec in Hamilton to recognise 10 winners who have demonstrated excellence in their craft.
This year's winners are:
Harrison Grierson Urban Design Award
Waipa District Council, Perry Aquatic Centre Puna Kaukau o Te Oko Horoi Development
The development of a new aquatic centre for Cambridge has been a 15+ year project for Waipa District Council and the local community.
The process started with long term plan submissions from the community in 2005, asking for the 1971 built outdoor 50m pool to be covered and upgraded. What was intended as a relatively small project prompted by the opening of the Te Awamutu Events Centre a few years earlier, evolved into a facility that responded to community requirements and the growth of Cambridge.
Combining community needs with upgrading an existing facility, the Perry Aquatic Centre development has created a state-of-the-art facility for the community, incorporating design principles to ensure ongoing swimming provision for current and future residents. The facility also provides a key recreational offer for a landlocked community, where swimming is second nature for New Zealanders. The success of the facility was seen in the first six weeks of operations to 30 June 2021, when the centre welcomed over 27,000 visitors.
There are not too many opportunities for the development of new public aquatic facilities across New Zealand. It was clear that the success of this new facility serves as an inspiration to other communities, reminding us to take those opportunities to not only provide a great community facility but incorporate the latest technologies, architecture, streetscapes, connections, collaboration and creativity. By pursuing excellence in urban design, this project has helped shape an important part of our region.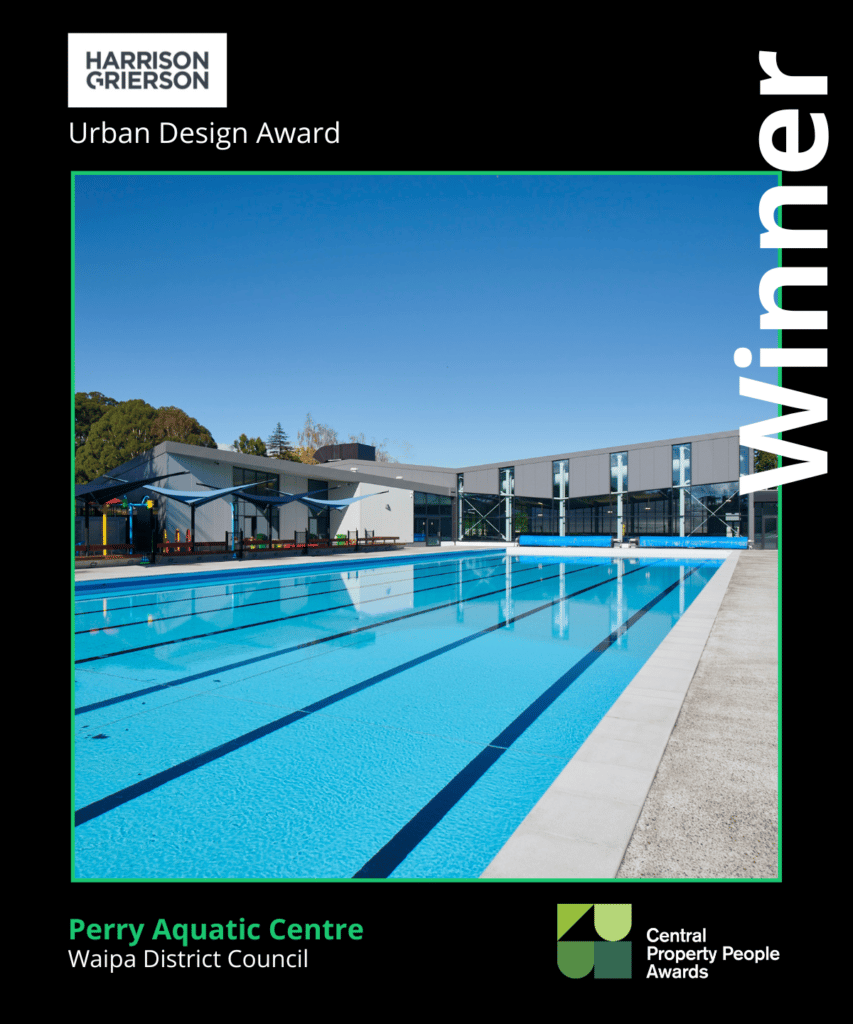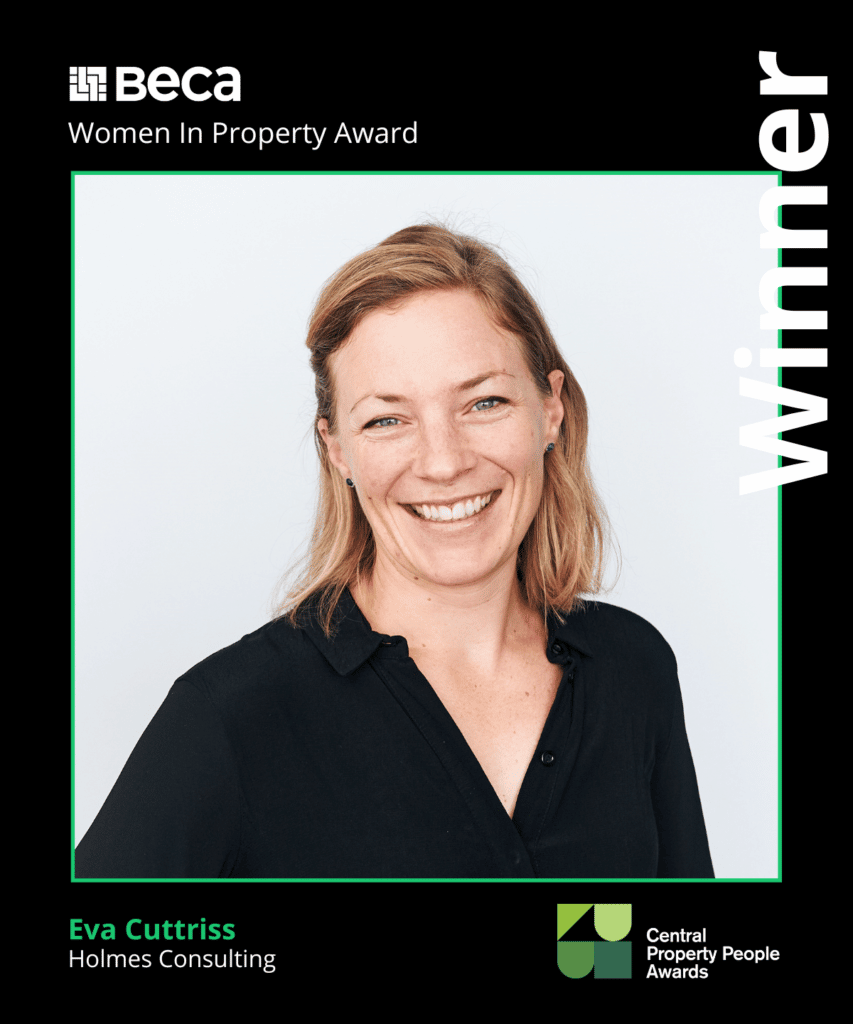 Beca Women in Property Award
Eva Cuttriss, Holmes Consulting
Eva is a passionate, talented structural engineer who has amassed an impressive breadth of experience and project achievements, including international recognition.
With over 18 years of project experience, Eva has demonstrated leadership on large and complex projects, encouraging conversations that are "best for project" with a strong focus on quality outcomes.
Eva's commitment to grow and develop not only the people around her but the region too is clear. Her desire and passion to continue to mentor and coach the next generation of young female engineers is something to be extremely proud of.
It was Eva's overall achievements, work ethic, leadership and contribution that shone through. She is not only an amazing role model to other women in the industry but someone who is continually giving back, both within her own organisation and in a broader context.
Veros Property Best Team Award
Zespri HQ Project Team, Zespri International Headquarters
The Zespri HQ Project Team impressed our judging panel with their overall collaborative approach, which enabled the delivery of the outstanding new Zespri International Headquarters building in Mount Maunganui.
The team's immense efforts have effectively delivered a world-class building for Zespri and a landmark building for the region. The new space welcomes visitors, fosters pride in the people who work there and is a strong representation of a beloved brand. All while meeting grower and shareholder needs and proudly 'flying the flag' for the local community.
Strong teams are the foundation of all successful projects. Despite working through a myriad of challenges typical with this scale of project, including a rigid budget and multiple stakeholder relationships, they delivered a lively new workplace and international headquarters that everyone can be proud of.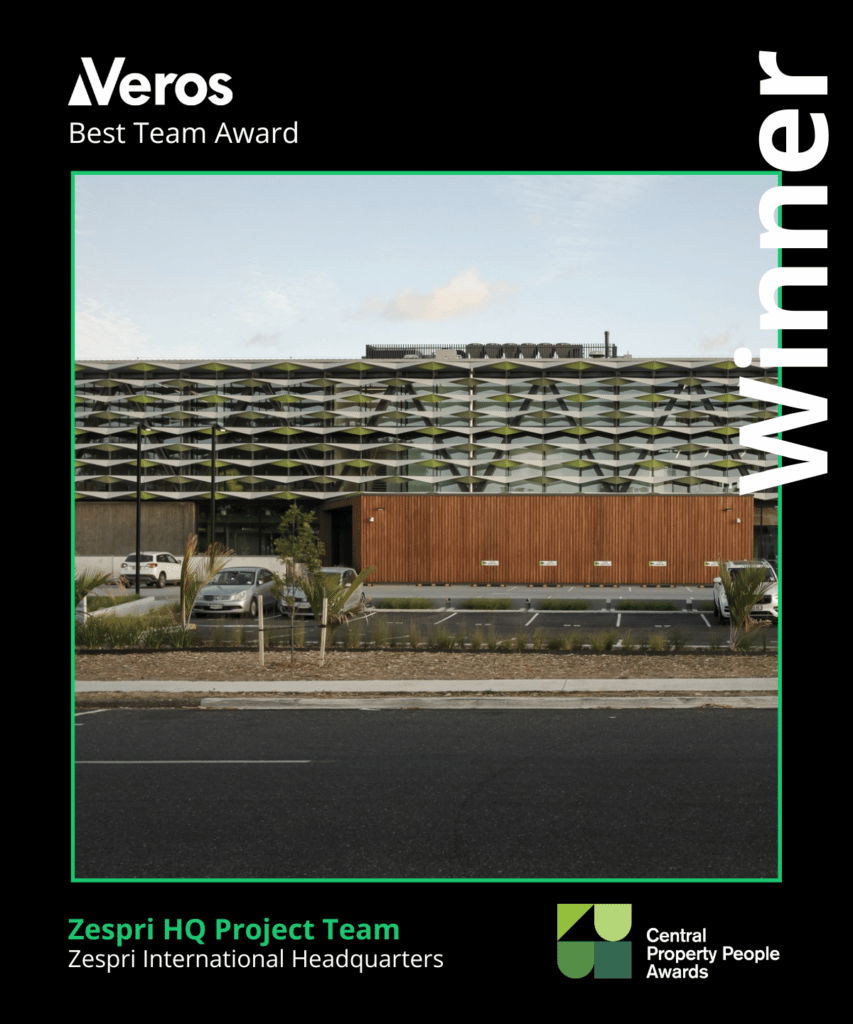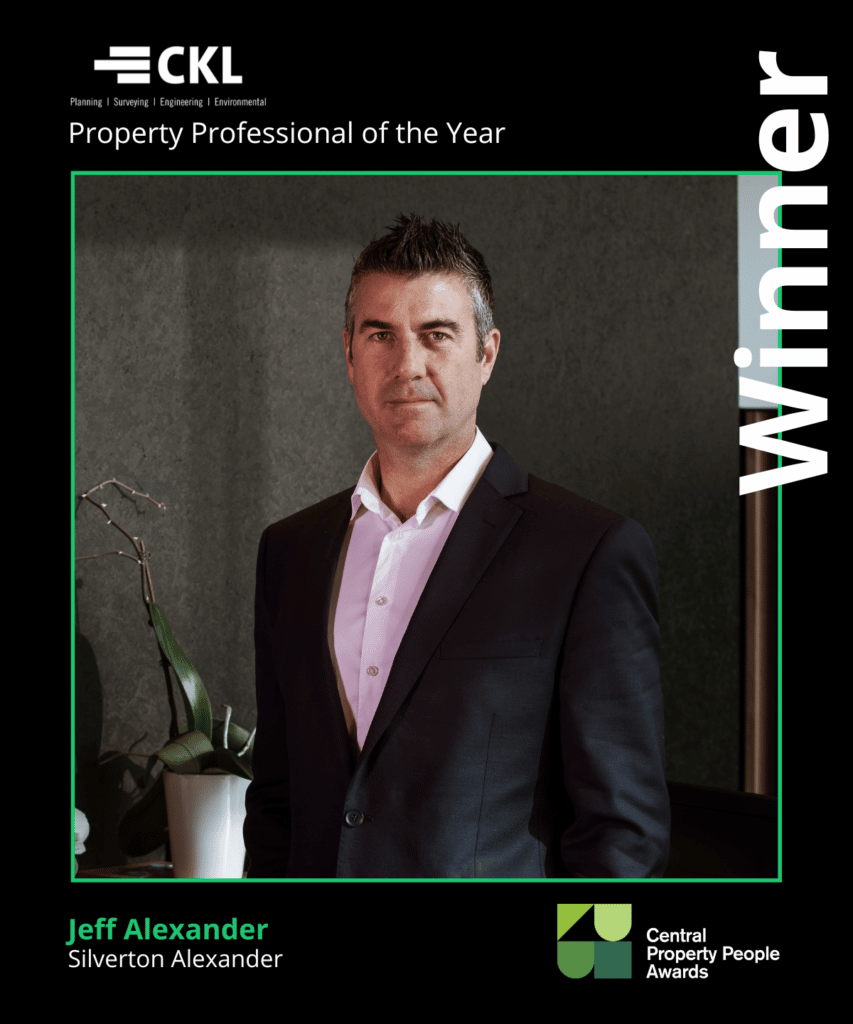 CKL Property Professional of the Year Award
Jeff Alexander, Silverton Alexander
Jeff is a Registered Valuer and has been valuing in our region since 2007. Jeff is one of two founding Directors of Silverton Alexander Registered Valuers who undertake a wide range of valuation work throughout the larger Waikato and Bay of Plenty regions.
In July 2019, Jeff was elected as National President of the New Zealand Institute of Valuers, becoming one of the youngest-ever leaders of the valuation industry. During his time at the helm, Jeff contributed significant time and knowledge to improving the industry, re-establishing the role of 'Registered Valuer' as pre-eminent advisor.
The judging panel commended Jeff as a leader in his profession, displaying passion, commitment, and always going the extra mile to contribute to not only the valuing profession but the property sector as a whole.
He has a strong commitment to working in partnership with stakeholders across the property ecosystem to achieve exemplary outcomes. Jeff is a fantastic ambassador for his organisation, profession and the property industry.
Boffa Miskell Excellence in Sustainability Award
The Foster Construction Team for Profile Group Hautapu Facility.
The new 49,000m2 Profile Group Hautapu building has set a new benchmark for sustainability in commercial and industrial construction. The property achieved a New Zealand Green Building Council 5 Green Star NZ v3 Industrial Design certified rating in December 2020.
This large facility is the first of three new buildings to be constructed in the 56.7-hectare industrial campus bordering the Waikato Expressway near Cambridge. This vast project places care and protection of the environment as core principles for development.
The Hautapu building features innovative sustainable construction practices which consider the material's lifecycle. The sustainability success has not only been recognised in this building but through the enhanced construction practices and sustainability initiatives that offer an environmentally friendly, transparent and low-emission product.
The Judges agreed that it was through the team's leadership, innovation, collaboration, and commitment to championing sustainability initiatives that crucial environmental outcomes were achieved.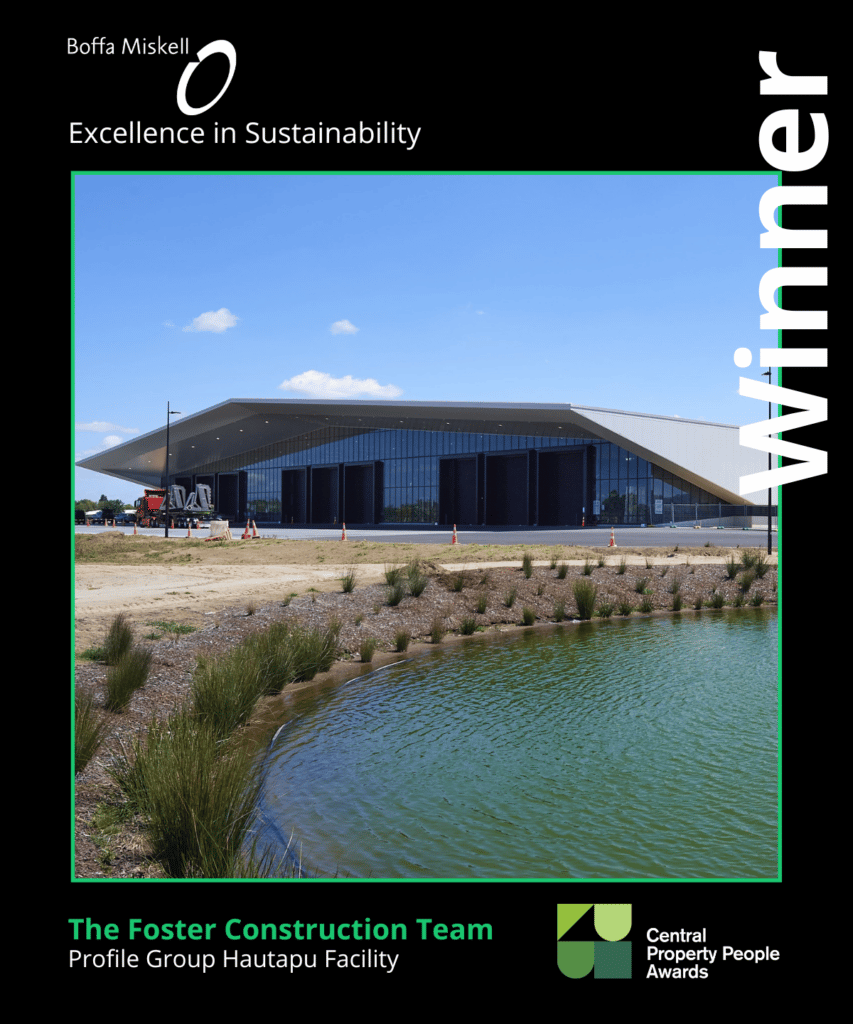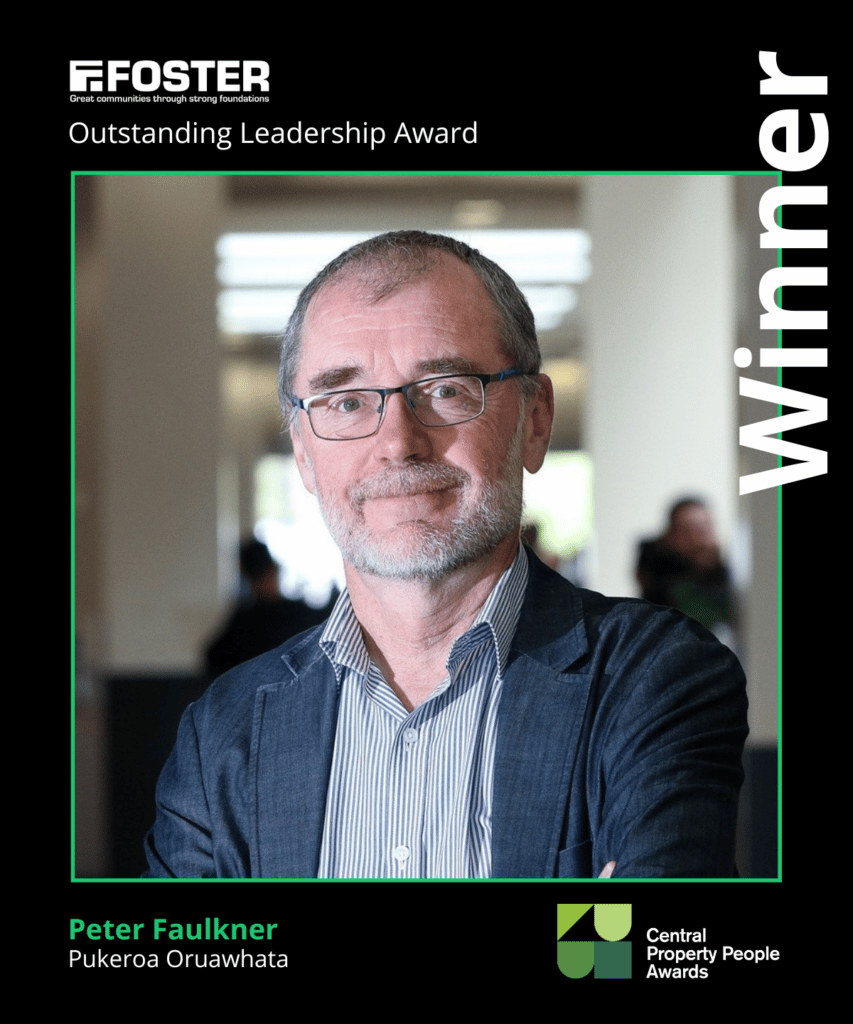 Foster Construction Outstanding Leadership Award
Peter Faulkner, Pukeroa Oruawhata
In October 2021, Peter Faulkner stepped down from his role as General Manager of Rotorua's Pukeroa Oruawhata Group. This brings to the close a remarkable chapter in Peter's life, throughout which he has shown exemplary leadership and commitment to the local property industry and community.
From a commercial banking and management consulting background, Peter has worked in a variety of roles prior to being appointed as General Manager of Pukeroa Oruawhata Group, now the largest iwi commercial entity in the Bay of Plenty, in 2010.
Under Peter's careful watch, the value of Pukeroa assets increased substantially. This asset growth focused completely on creating opportunities and positive development for Rotorua, while growing generational wealth that is reinvested for the wellbeing of the Ngati Whakaue people.
Peter has long held roles on both Property Council New Zealand's Bay of Plenty Branch, and the Rotorua Chamber of Commerce Board.
He has played a key role in leading our industry and made an enormously positive impact in our community. It was Peter's leadership, commitment and contribution to the many successful projects that cemented his place as this year's winner.
Hawkins Construction Waikato Long Service Award
Geoff Felton, Colliers Hamilton
A stalwart of the Waikato property industry, it gives us great pleasure to congratulate this year's Long Service Award recipient, Geoff Felton.
Geoff's working career started after he became a solicitor in 1972 a field which he worked in until he found the light in 1987 when he started in the property industry with then Brunton Patton (now Colliers) working for the late Maureen and Barry Brunton. 
After a brief stint as a contract's advisor Geoff moved into commercial property management and started the Bruntons/Colliers Real Estate Body Corporate division which with his input has grown to be probably the largest in the Waikato. 
Prior to his retirement, he was overseeing this area of the business with a staff of approx. 10 with many body corporates, dealing with both day-to-day and complex issues such as re-clads, schemes of arrangement and earthquake strengthening of unit-titled complexes.  He also assisted many local developers by preparing the necessary paperwork to set up for their body corporate developments for sale purposes.
He is a local expert on the Unit Titles Act and has been regularly called upon for his knowledge in this area (which he is very willing to share if you provide the red wine !!)
As well as being a long-time participant in the property industry in the Waikato Geoff has given his time and experience willingly and generously to the Property Institute of New Zealand, the Property Council of New Zealand (Waikato Branch) the Waikato Rugby Union Senior Judicial Committee, a trustee for the Waikato Show Trust Board.
Geoff is a true leader, and his knowledge and experience has been invaluable to Colliers in Hamilton and to the property industry in the Waikato.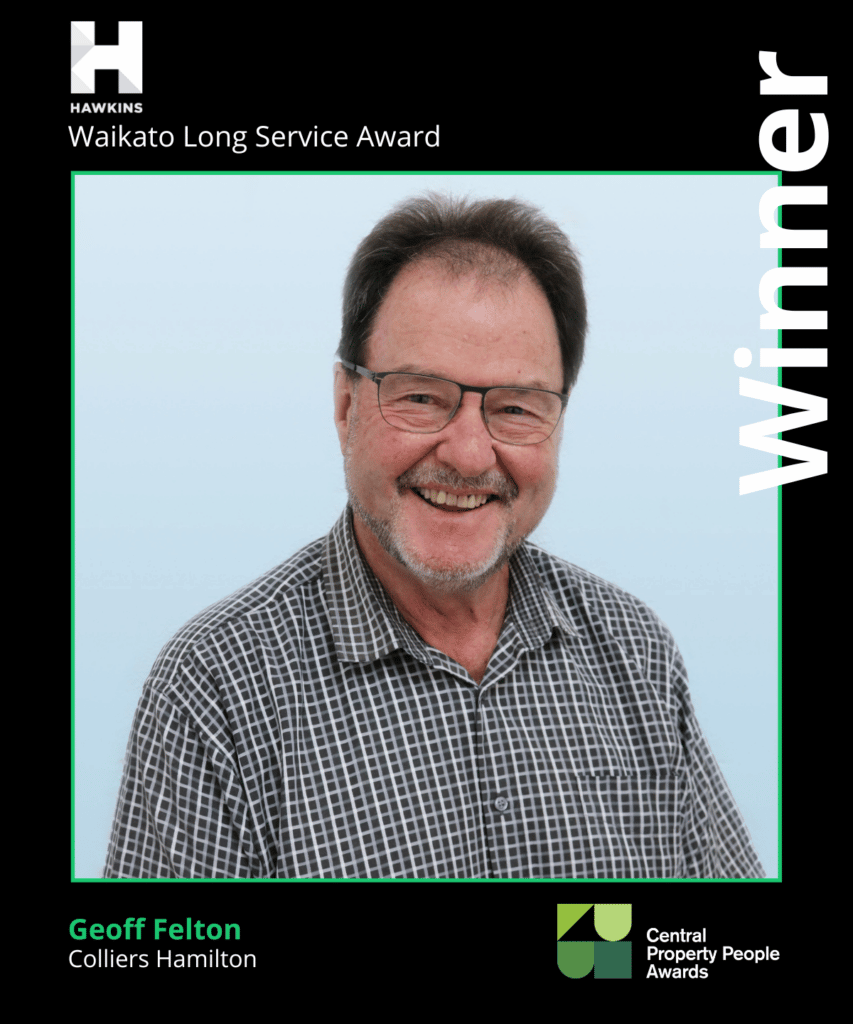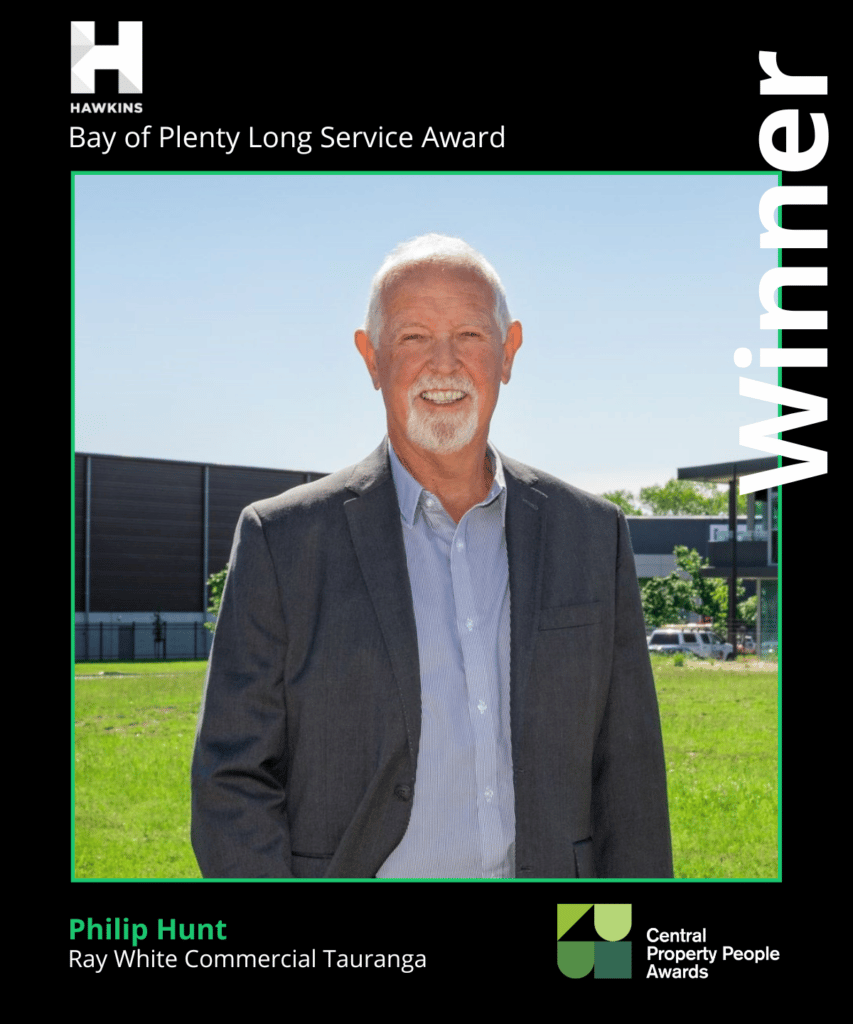 Hawkins Construction Bay of Plenty Long Service Award
Philip Hunt, Ray White Commercial Tauranga.
Philip owned and managed garden centres in his mid-20s in the Manawatu. That is where he learnt to sell! In 1988, Philip sold his garden centres to a national chain and relocated to Tauranga. Philip began his new life in the Bay in the role of Main Street Manager – some would say he was the best Main Street Manager the Council has ever had. He made a huge difference to the CBD for retailers, championing their cause and remaining at the forefront of all CBD ongoings.
Looking for a career change, Philip moved into commercial and industrial property management in 1997 as a Property Manager at Denis McMahon's company. Being very much a people person. this role suited him extremely well.
A few years later in 2006, Philip formed a boutique real estate company called McMahon Commercial. He started out specialising in leasing, allowing him time to build his communication skills and networks before embarking on a sales and negotiation role. Another few years down the track and the Ray White Commercial franchise became his home. 
Philip is a natural connector who loves being out and about, family values and trust are extremely important to him, and he does everything he can to impart these to everyone he meets.
Chow: Hill Architects Judges' Choice Award
Charlotte Muggeridge, Harkness Henry
Charlotte is respected and admired in the industry for her specialist skills in resource management, property development, local government, unit titles, amongst others. Charlotte holds a Bachelor of Laws, as well as a master's degree in political science and is currently an Associate at Harkness Henry.
It was clear in her submission that Charlotte makes an enormous contribution to the local property industry and community. She sits on the Waikato Conservation Board, the Waikato Plan Leadership Committee, and the Waikato Housing initiative. Charlotte also has a passion for community governance and is a board member of the International World YWCA Board, past president of the Hamilton YWCA, and a trustee of Volunteering Waikato.
It was Charlotte's overall career achievements combined with her steadfast work ethic and incredible contribution to the industry and community that made her a worthy recipient of this year's Judges' Choice Award.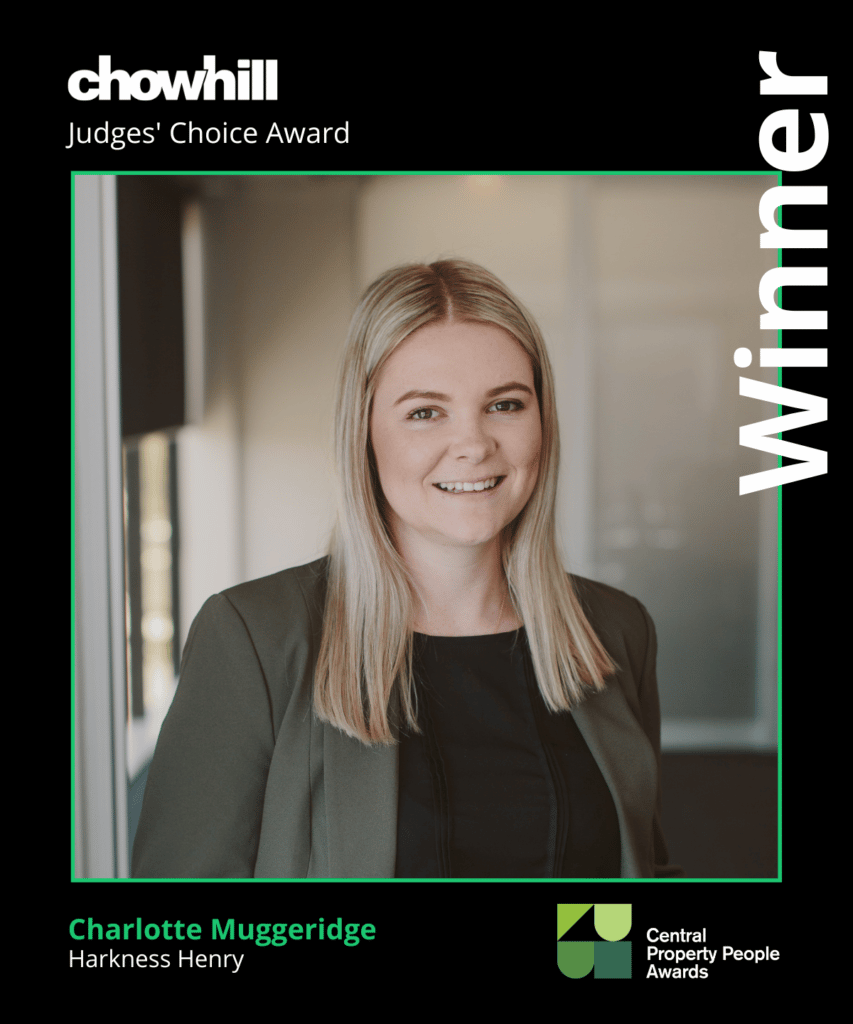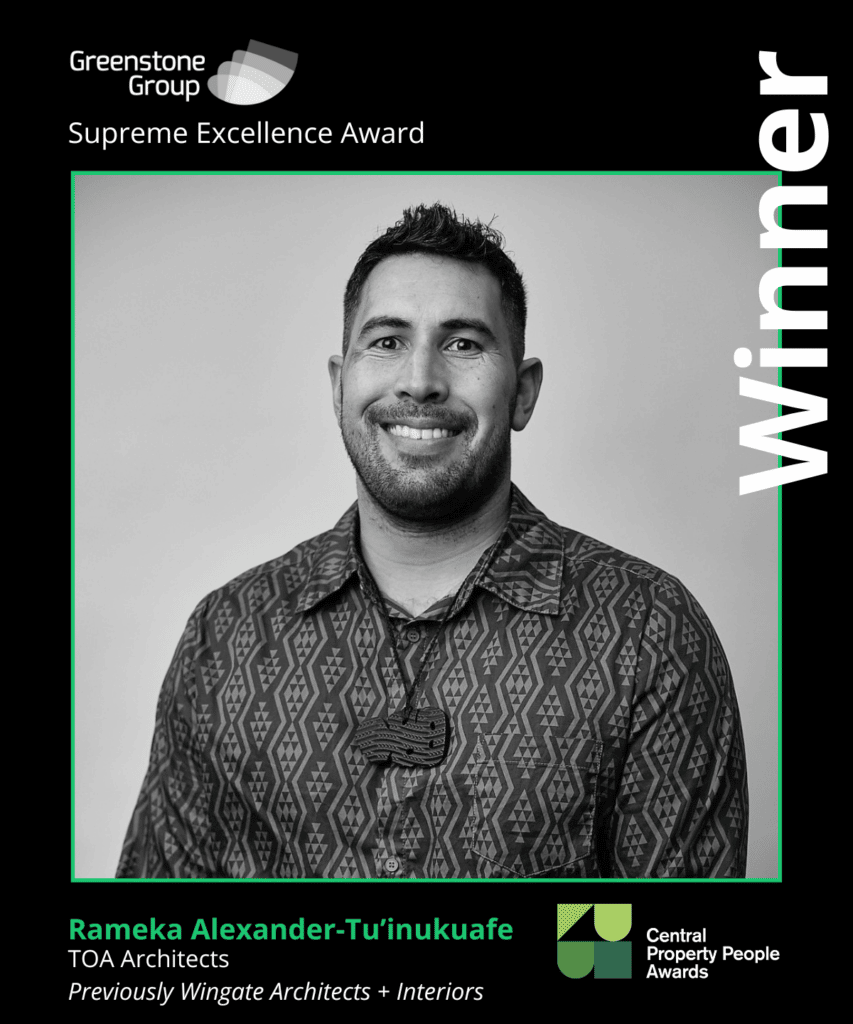 Rider Levett Bucknall Young Achiever of the Year Award and the Greenstone Group Supreme Excellence Award
Rameka Alexander-Tu'inukuafe, TOA Architects (previously Wingate Architects)
Rameka is a design leader and architectural designer based in Bay of Plenty. He holds a Bachelor of Architectural Studies from the University of Auckland and a Master of Architecture Professional with first-class honors. As a Māori design specialist, he has developed and managed many engagement projects, across a range of sectors. Rameka acts as a cultural design translator and navigator and voice for Māori and the broader property industry within his area of expertise.
The Judging panel agreed that Rameka has contributed significantly to the community, his marae, iwi, and the broader property industry. His unique cultural background and architectural skillset have positioned him to help organisations engage and navigate this sometimes-tricky space. Working between Māori, the community and the property sector, his expertise helps create design outcomes that speak to Aotearoa's unique bicultural foundation.
The proverb "Ehara taku toa i te toa takitahi, engari he toa takitini – My success should not be bestowed onto me alone, as it was not individual success but success of a collective" articulates Rameka's design and personal philosophy, as well as acknowledging the many contributors to his professional and personal achievements to date.
But tonight, we honour him as an individual, as a contributor and as a valued member of our community. Rameka's growing leadership skills deliver excellence, innovation, capability, intelligence, mana and creativity. His long-term commitment to both whanau and career aspirations in the Bay of Plenty and Waikato were clear in his submission. His passion to bring Māori design to the forefront of property projects makes him a stand-out and worthy recipient of tonight's Young Achiever of the Year Award and the Supreme Excellence Award. 
Congratulations to all the winners and a special thank you to our sponsors, Greenstone Group, Beca, Boffa Miskell, Chow:Hill Architects, CKL Property Professionals, Foster Construction, Harrison Grierson, Hawkins Construction, Rider Levett Bucknall, Veros Property and Bayleys, without whom this fantastic event wouldn't be possible.