Nominations for the 2024 Property Council New Zealand Rider Levett Bucknall Property Industry Awards are now open, with one exciting new category added to the mix.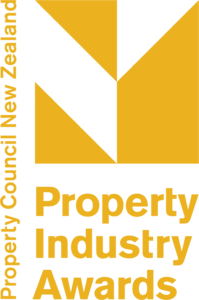 Hosted by Property Council New Zealand with the support of Principal Sponsor Rider Levett Bucknall, the Property Industry Awards is the most prestigious property awards programme in New Zealand, celebrating excellence in design and innovation in the built environment for over 25 years.
The Awards showcase superior examples of iconic projects in property development and investment across a broad range of sectors and design disciplines, recognising outstanding projects, developments and refurbishments. Award winners are the best of the best; projects that provide an outstanding return or delivery of service potential on investment of funds, creating value for owners, tenants and the wider community.
For the 2024 event, an exciting new category has been added to the awards schedule, the Oceania Retirement Living and Aged Care Property Award. Project entries for this category include retirement villages with independent and serviced units, hospitals associated with a village and other specialist wards.
Property Council chief executive Leonie Freeman says the new category was born out of a significant increase in retirement living projects nominated in recent years, which the judging panel felt deserved to be recognised as a standalone category.
"We're incredibly excited to add another category to the awards programme, with the retirement living sector growing in leaps and bounds over the past decade we are thrilled to recognise innovation and excellence in this important part of the property spectrum." 
Nominations, which take only a few minutes to complete, are open now, with full submissions due by 28 February 2024. 
Nominate your award-winning project!
It's quick and easy – nominate your deserving project today!
Nominate now