Wellington's new Children's Hospital has been crowned Supreme Winner at this year's Property Council New Zealand Rider Levett Bucknall Property Industry Awards in front of over 1,500 guests at Spark Arena this evening.
Te Wao Nui is the new Child Health Service for the Wellington region, located in the new Mark Dunajtschik and Dorothy Spotswood Building. The name reflects the ecosystem of integrated health services designed for tamariki, mokopuna and whānau of Central New Zealand which brings teams of doctors, nurses and allied health professionals together under one roof to care for those needing specialist medical and surgical care.
In 2017, property developer and philanthropist Sir Mark Dunajtschik and his partner Dorothy Spotswood made the extraordinarily generous commitment to donate over $50 million to fund the project. A team of dedicated consultants and building contractors completed the full build project in less than five years, making it the fastest-completed healthcare project of its size in New Zealand.
The 7,500 square meter, three story, stand-alone building was completed at significantly less cost to similar public funded projects. The hospital has 50 inpatient beds and a further 101 outpatient beds, and provides for all of the Wellington region's children's healthcare services under one roof for the first time.
The judges commended the project team for taking a private-developer-approach to a traditionally public sector project that goes above and beyond to deliver its aim of caring for children.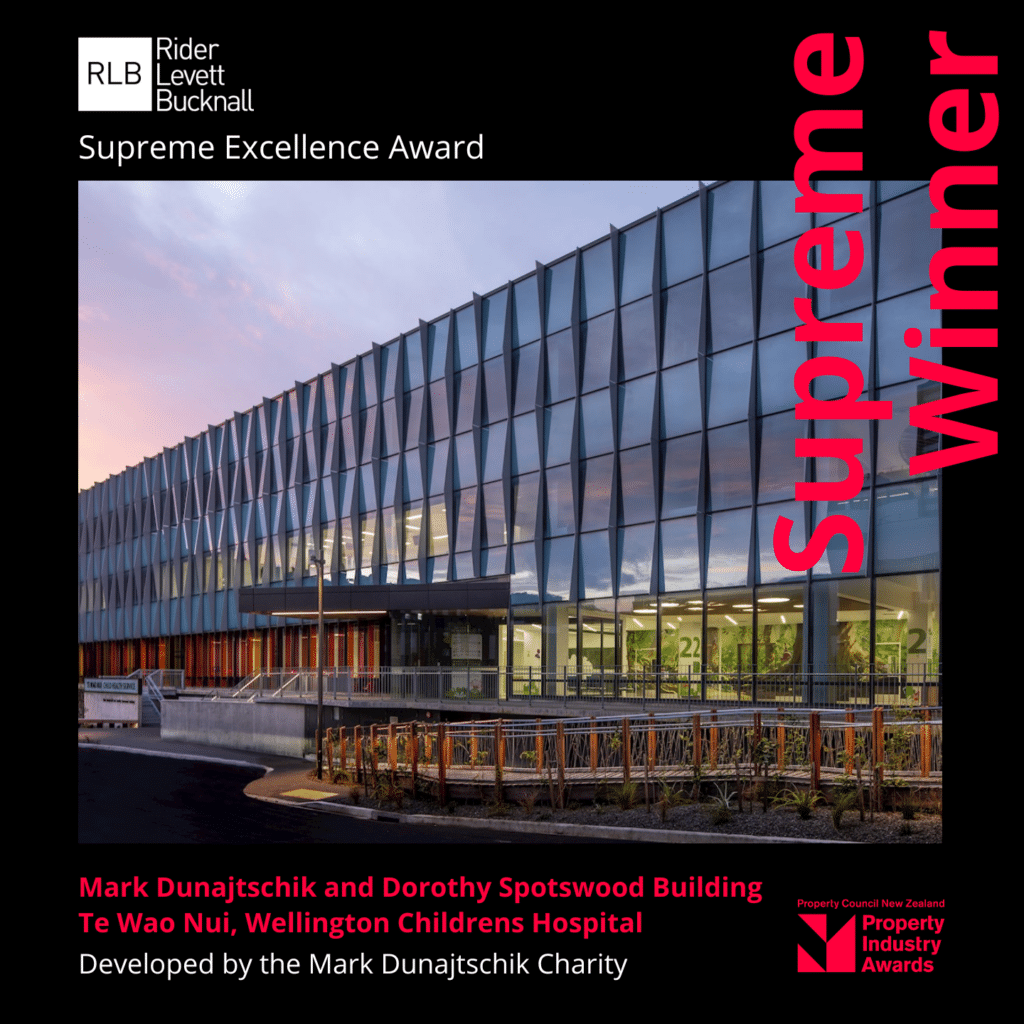 Civic, Health & Arts Property Award
Mark Dunajtschik and Dorothy Spotswood Building, Te Wao Nui, Wellington Childrens Hospital, Wellington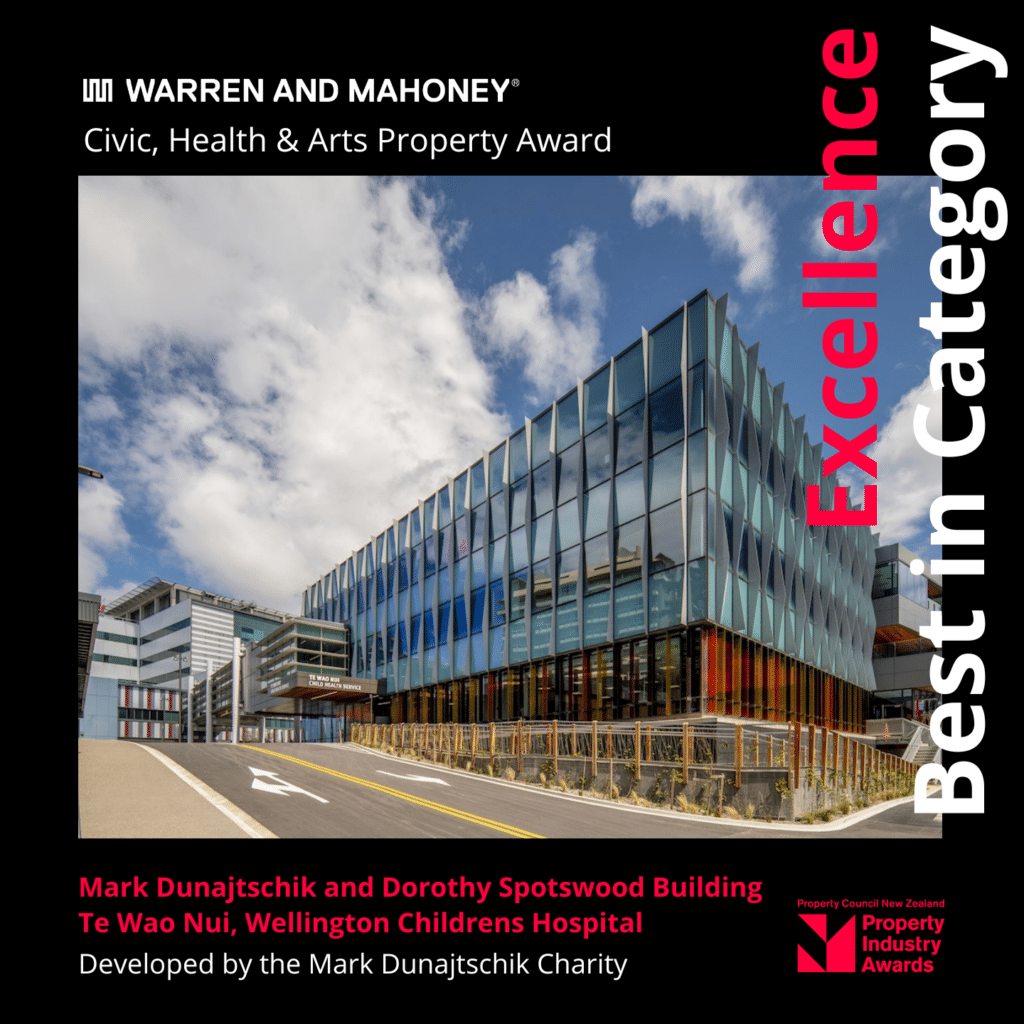 Excellence
Te Ara Ātea, Rolleston
Te Huhi Raupō – Taranaki Base Hospital Renal Unit, New Plymouth
Merit
Auckland Central Library Green Roof, Auckland
Luggate Memorial Centre, Luggate
Motueka Public Library Te Noninga Kumu, Motueka
Sir Howard Morrison Centre, Rotorua
St James Theatre, Wellington
St Johns Presbyterian Church, Rotorua
Whangarei Māori Land Court, Whangarei

Commercial Office Property Award
1 Albert Street, Auckland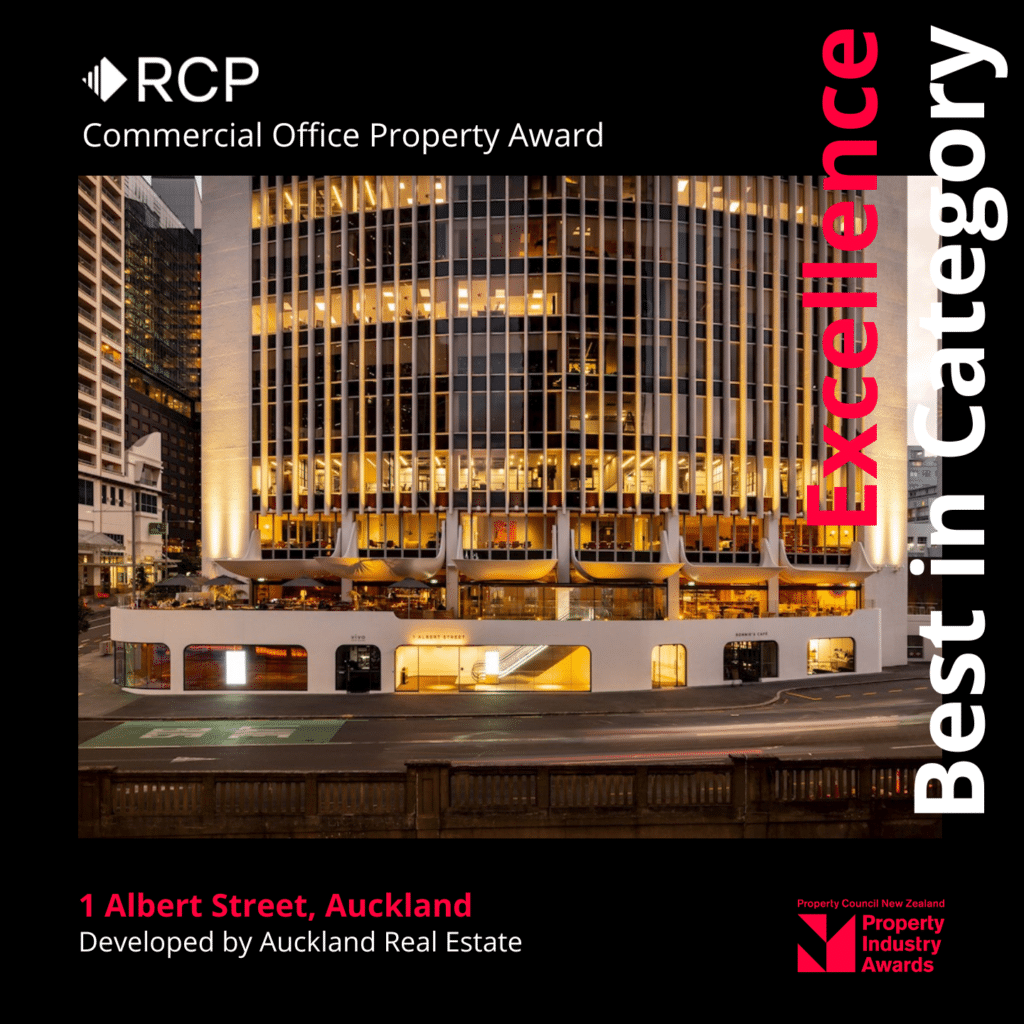 Formerly known as West Plaza, completed in 1972, 1 Albert is situated at the intersection of Albert Street and Customs Street West.
In 2018, Quattro Asset Management approached a specialist team to redevelop the podium and lower levels of the building together with the office floors. The vision was to meet contemporary workplace requirements and attract aspirational SME's to the downtown district. The team stripped back the layers added in the 1980s and 1990s, creating a design solution that adds value whilst celebrating the building's true simplicity.
The primary design response relocates the main entrance from Albert Street to Fanshawe Street, establishing a prominent new lobby, with the dramatic end walls of the tower meeting the ground. 1 Albert's rejuvenation supports the return of vibrancy to the precinct and retains an iconic piece of Auckland CBD's heritage.
Excellence
40 Bowen Street – Bowen Campus, Wellington
The Bell Gully Building, Wellington
The Hayman Kronfeld Building, Auckland
Merit
107 Carlton Gore Road, Auckland

Community & Affordable Housing Property Award
The Residences at Karamū, Christchurch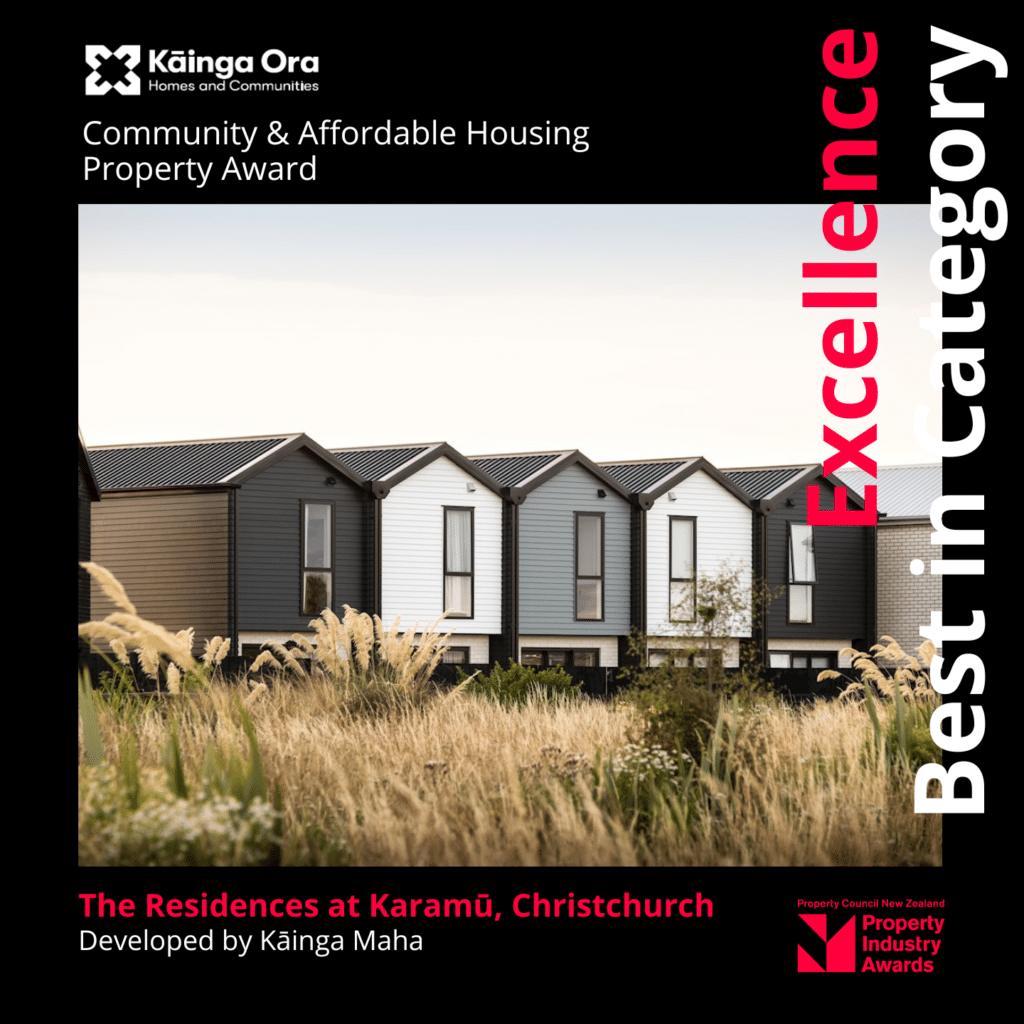 The Residences at Karamū is a mixed and blind tenure residential development delivered by Kāinga Maha and built by Home.
Across 11,600 square meters, the development boasts 84 two and three-bedroom houses, all designed and built to provide affordable homes for first-home buyers and community housing tenants. Built to 6 and 7 Homestar across five distinct typologies, the quality and aesthetics are equal, ensuring a healthy and well-appointed home for all residents, irrespective of tenure.
Since completion, Home Foundation is investing resources into running placemaking activities and events for all residents and neighbours of the development and wider subdivision. The Judges were impressed with the depth of research, engagement and project planning making this a standout entry demonstrating best practice in Aotearoa.
Excellence
Martin Avenue, Leone Terrace and Margaret Avenue, Auckland
Merit
Brewer Street, Blenheim
Kauri Street and Kauri Place, Hastings
SELO Development, Glen Eden, Auckland
Sudeley Street, Orakei, Auckland
Tīmata Lane, Auckland

Whangārei Boys High School, Whangārei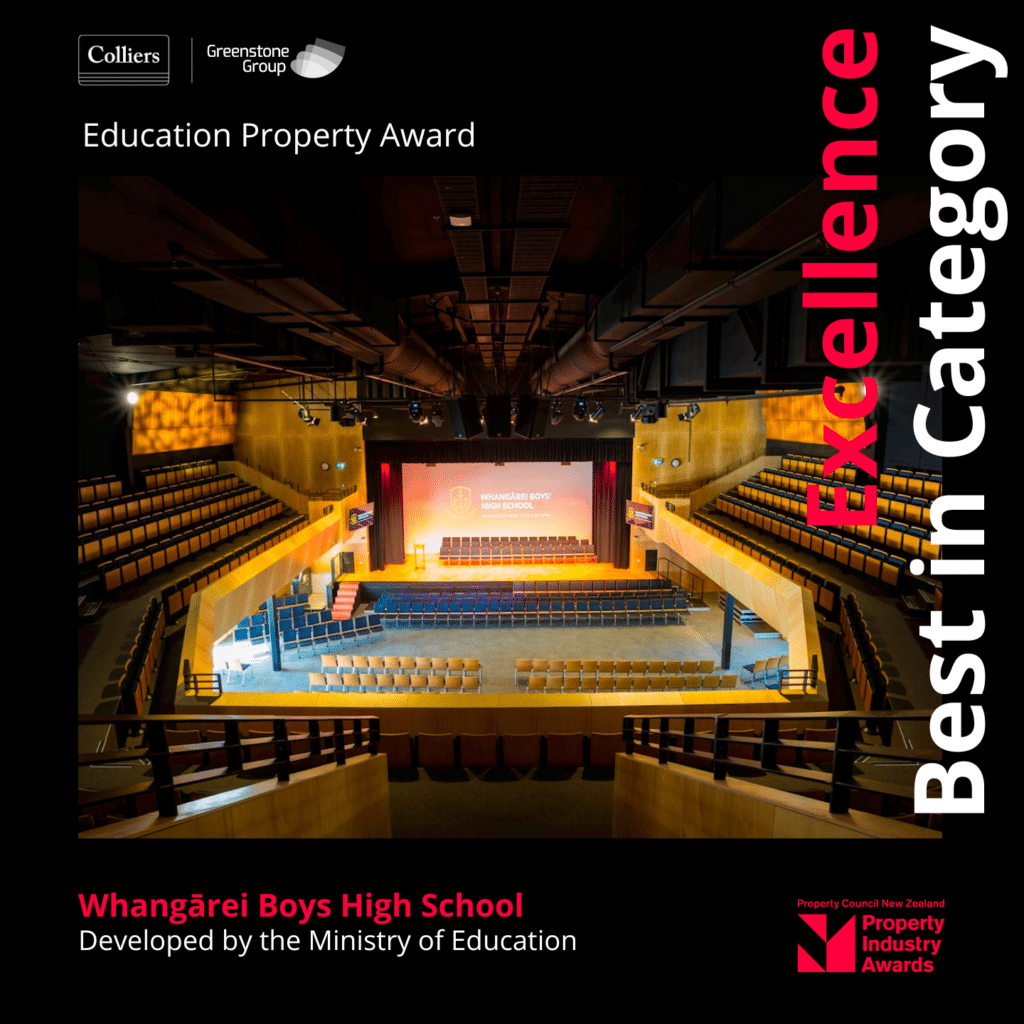 Whangārei Boys' High School was developed by the Ministry of Education for the re-development of the Educational facility, on a land that was gifted by Iwi around 150 years ago.
ASC Architects was engaged as the lead designer for master planning and building design for this redevelopment. The project scope included a state-of-the-art School campus, replacing the existing school. A bridge allowing easy access to the site was also built, directly from State Highway 1.
The build roll for the redevelopment project was 1250 students, with a master planning roll projected at 1600 students. The design team worked closely with the Principal and head teachers and also consulted the two Mana Whenua tribal groups, Ngāti Kahu ki Torongare and Te Parawhau.
The successful redevelopment of the high school is expected to rejuvenate learning outcomes in the North.
Excellence
Birkenhead Primary, Auckland
Freeman's Bay Primary School – New Classroom Roll Growth Block, Auckland
Gaia Earth Childcare, Auckland
Hanleys Farm School, Queenstown
Macleans College, Auckland
Massey University Albany Innovation Complex, Auckland
Wesley Primary School, Auckland
Merit
Auckland Normal Intermediate School (ANI) new MPS and 10TS buildings, Auckland
Mangapikopiko School, Auckland
Ngākōroa School, Auckland
Wakatipu High School, Queenstown

Green Building Property Award
Cloudy Bay Vineyards – Founders Cellar, Blenheim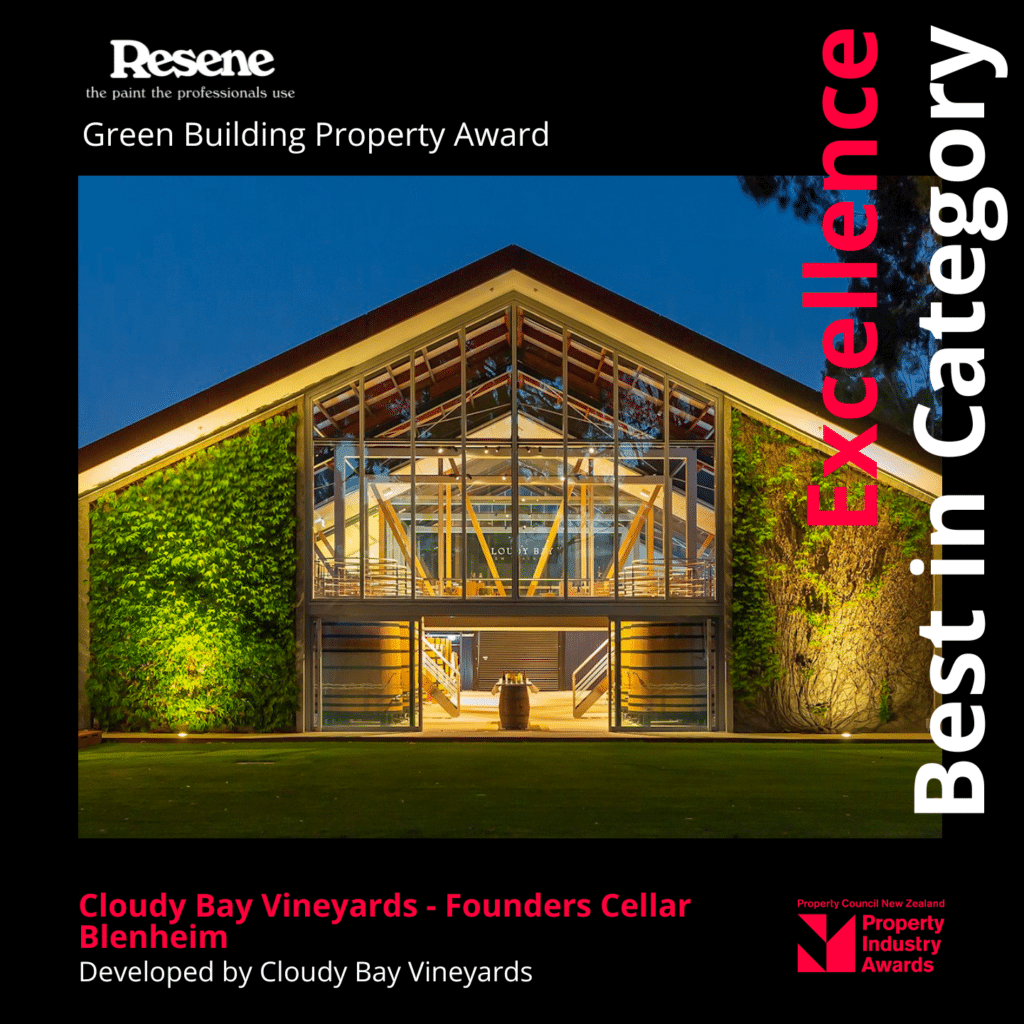 Cloudy Bay's Marlborough vineyard needed new visitor spaces and small-batch wine production. It sought to demonstrate the sustainability values that guide its world-leading winemaking by reusing its original 1985 industrial cellar building that required a seismic upgrade.
Care has been given to adopt passive design principles that in combination with solar generation onsite is anticipated to deliver net zero energy use. The new space combines a Tank Room for small batch wine operations, with a Wine Library (housing 4,000 bottles dating back to the label's inception) and Blending Room at gallery level.
The finished building has created New Zealand's first 5-star GreenStar-rated commercial wine building, and has delivered an exceptionally high-quality space for international guests and wine buyers.
Excellence
107 Carlton Gore Road, Auckland
Motueka Public Library Te Noninga Kumu, Motueka
Te Huhi Raupō – Taranaki Base Hospital Renal Unit, New Plymouth

Heritage & Adaptive Reuses Property Award
The Hayman Kronfeld Building, Auckland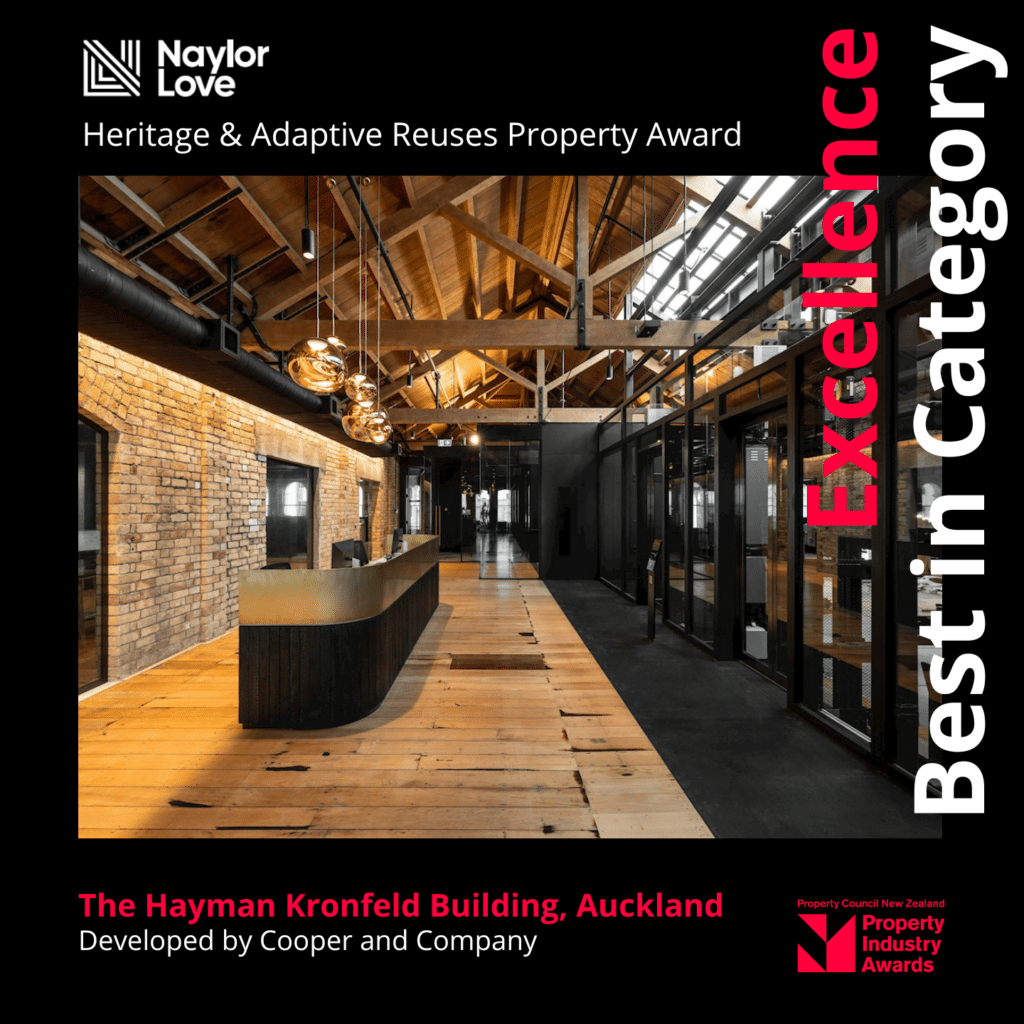 The Hayman Kronfeld Building is the result of the sensitive refurbishment of two heritage-listed warehouses in Auckland's Britomart precinct – formerly known as the Barrington Building and Old Sofrana House – that were united into a single address offering 4807 square meter Net Lettable Area on the 1385 square meter site.
Cooper and Company and Peddlethorp worked together to transform these century-old buildings into contemporary offices that meet the demands of the modern market while celebrating their rich layers of history and rejuvenating their relationships with the streets around them.
The attention to detail and the experiences learnt from the many previous heritage building refurbishments in the Britomart Precinct have been utilised in the successful completion of this project.
Excellence
1 Albert Street, Auckland
St James Theatre and Ballet Building, Wellington
The Observatory Hotel, Christchurch
The Vines at Bethlehem, Tauranga
Merit
Auckland Transport Downtown Waterfront Heritage Shelters, Auckland
Chief Post Office, Auckland
Sir Howard Morrison Centre, Rotorua
The CAB, Auckland

Industrial Property Award
Healthcare Logistics (EBOS Group), Auckland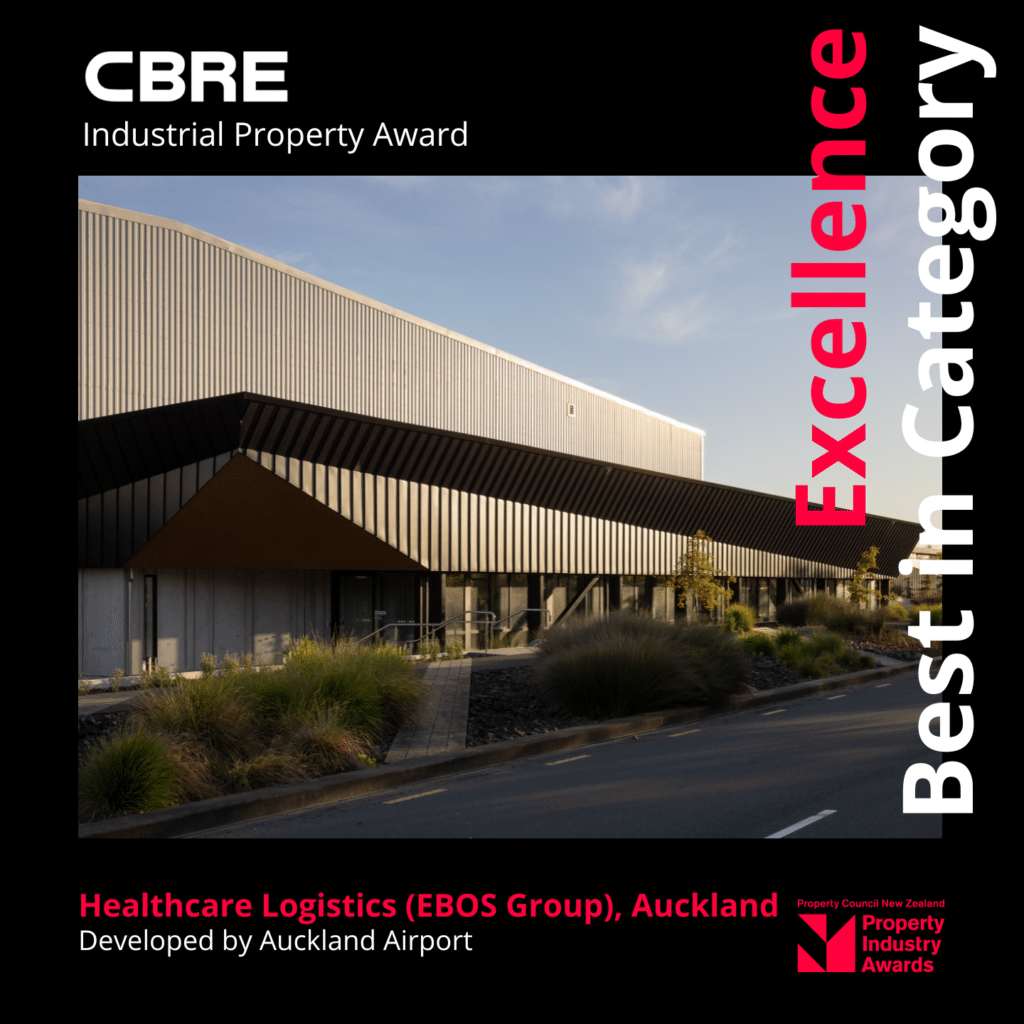 EBOS Group's Heathcare Logistics purpose built 19 thousand square meter temperature controlled pharmaceutical grade facility is another standout development, reinforcing the Landing Business Park's reputation as a premium location for global logistics companies.
The 29,000 square meter site is prominently positioned, being on Te Kapua Drive, the main thoroughfare through the Landing precinct. The highly complex, functional, yet aesthetically striking facility is fully future-proofed and has a 4 GreenStar rating.
The development is an exemplary example of a modern multifunctional industrial facility. Key features include a 15 – 25 degree temperature-controlled warehouse and breezeway with 9 roof-mounted HVAC units, electrical redundancy to n+1, Full back up – zero time out, cold chain facilities for airline units and sea freight containers, anti-room, high-value goods vault, rework rooms and a custom build insulated roof system.
Excellence
Auckland Fresh Distribution Centre, Auckland
Douglas Innovation Building, Auckland
Te Pūtahi' (Auckland Film Studios), Auckland
Merit
Newline, Tauranga
NZ Windows Waikato, Hamilton

Multi-Unit Residential Property Award
Carlaw Park Student Village Stage 3, Auckland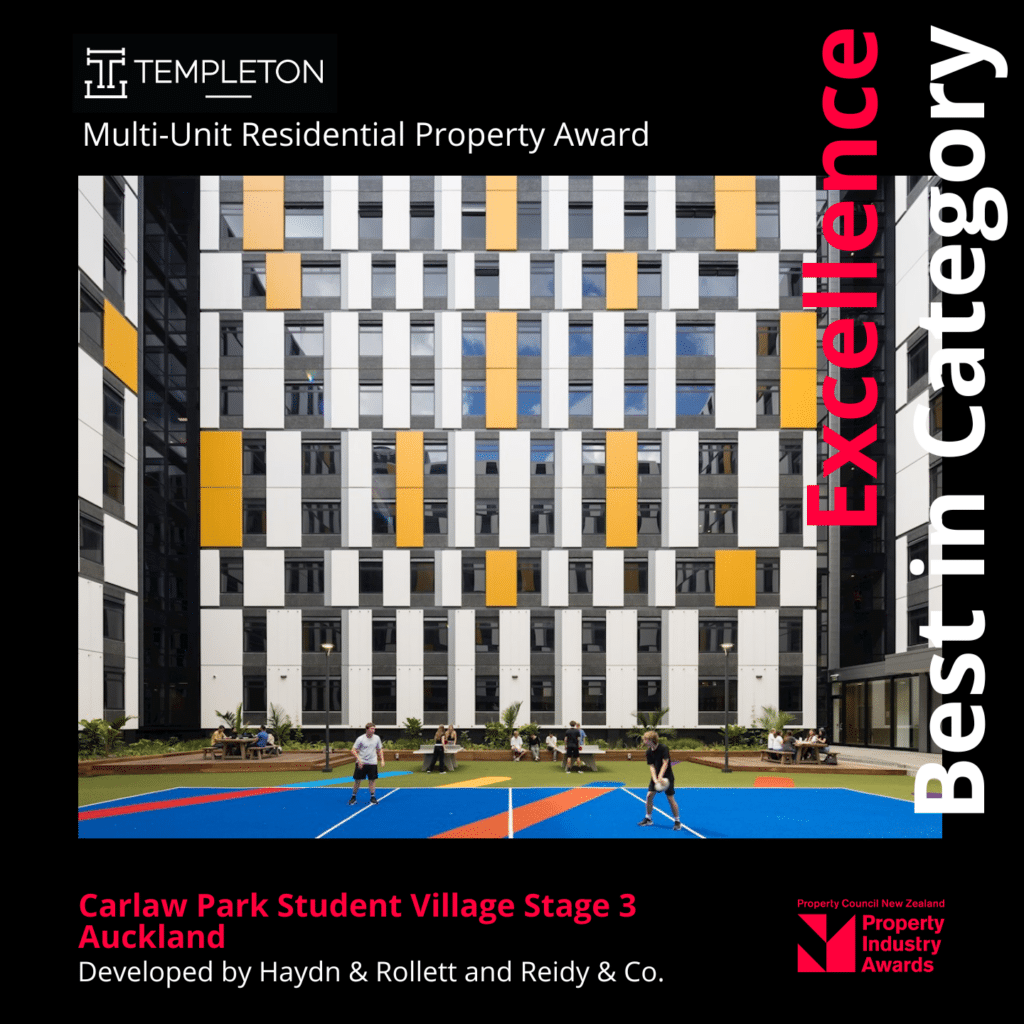 Carlaw Park Student Village 3 follows on from the success of Stages 1 and 2 which have been operating since 2014. With the addition of 907 student rooms on 5,441 square meter site, the three stages collectively offer a high-quality student apartment living experience for 1600 students.
Village-style accommodation encourages a strong sense of community in what is fast becoming a significant University accommodation hub. The campus consists of self-contained apartments with communal lounges, study spaces and amenities for all students.
The building's fully enclosed courtyard provides a social area for student gatherings away from the busy city setting. The exterior apartments benefit from quality views of the Domain, the Port and University cityscape. Its façade palette of glass and decorative precast concrete panels creates a bold and complimentary aesthetic within an urban and natural context.
Excellence
Elm Remuera, Auckland
NXN Apartments, Auckland
SELO Development, Auckland
Teal Apartments, Auckland
Merit
Metlifecare Edgewater Village, Auckland
One Enfield Apartments, Auckland
Risland Albany, Auckland
Star Newton / The Nix, Auckland
The CAB, Auckland

O'Connells Mall, Queenstown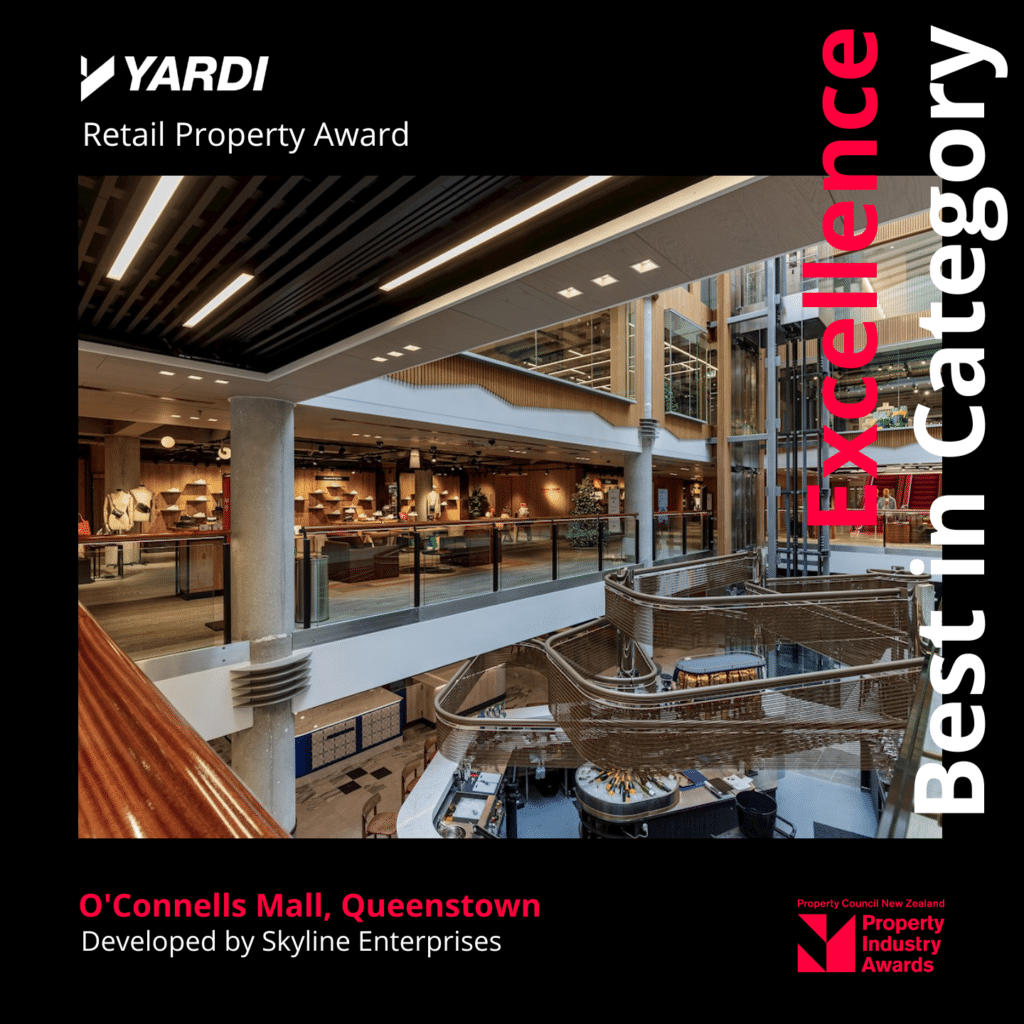 The 1980's, O'Connells Mall was overdue for a significant upgrade. Demolishing the building back to its primary structure and strengthening the floors, walls, and columns provided for a fully refurbished centre introducing an open atrium configuration to the centre with retail integrated into the lower 3 levels and new office space at level 4.
The redevelopment included new public facilities, a food precinct, completely new and upgraded building services, and the complete exterior remodelling of the building. The new roofline and improved street-level access have established a modern retail centre.
Key tenants DFS Galleria, Skyline's head office, and the food precinct have brought back life in the heart of Queenstown. The iconic building – with its chrome exterior and luminescent interior – sets a new benchmark for quality buildings in the Queenstown CBD.
Excellence
Queensgate Event Cinema and IMAX development, Wellington
Merit
Costco Wholesale Auckland, Auckland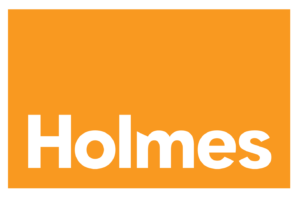 Tourism & Leisure Property Award
Hawkes Bay Regional Aquatic Centre, Hastings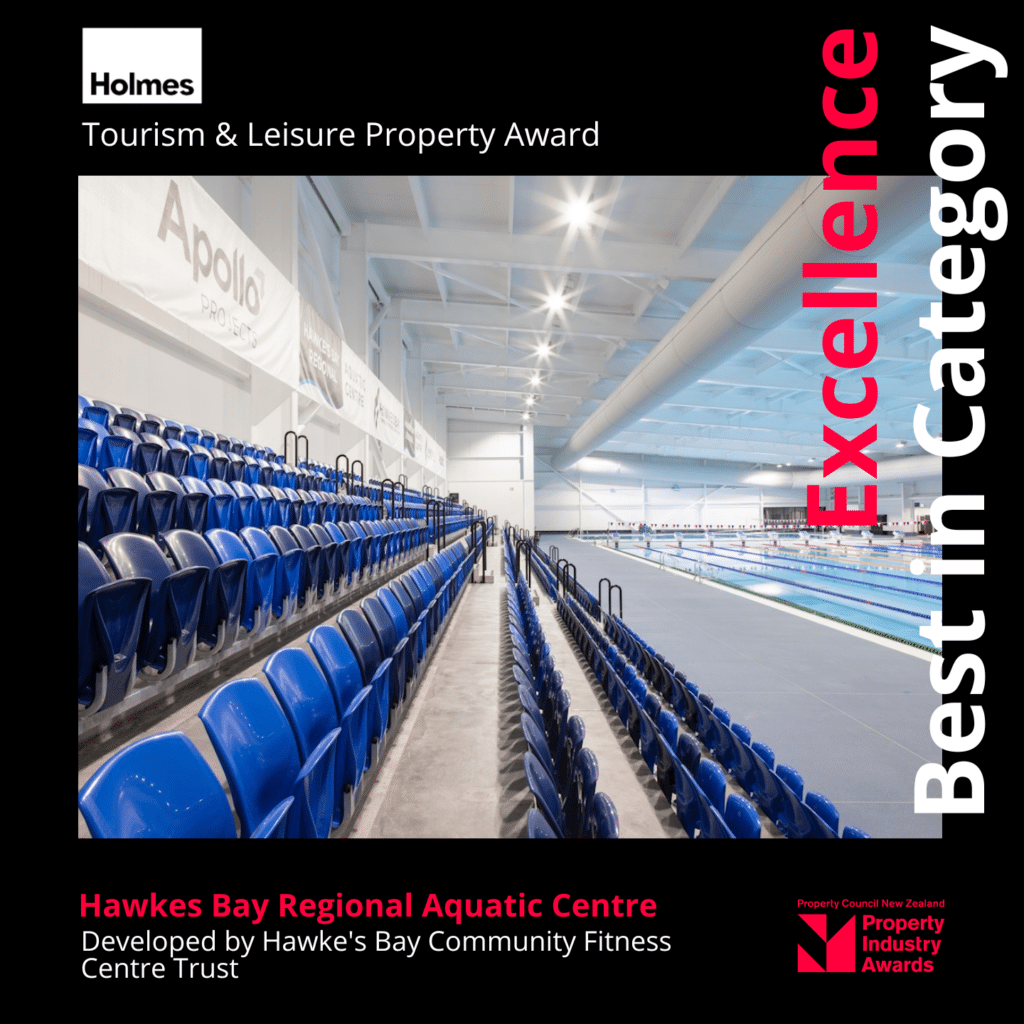 This incredible facility is designed to meet the increasing demand for aquatic and recreational activities in the region. Covering a 5167 square meter footprint, the facility is situated within the Hawke's Bay Regional Sports Park.
At the heart of the aquatic centre is the 10-lane, 50-meter competition pool, meeting world championship standards. With a movable bulkhead, the pool can be split into a single national level or dual local level water polo configuration.
Additionally, the centre has a 25-meter warm-up pool ideal for recreational activities and hydrotherapy pools that are used for rehabilitation and therapy, catering to the needs of people throughout the region. Overall, the Hawke's Bay Regional Aquatic Centre is an impressive facility that is already attracting visitors from all over the region.
Excellence
Auckland Zoo – Tātaki Auckland Unlimited, Auckland
Sudima Kaikōura, Kaikōura
Merit
Cloudy Bay Vineyards – Founders Cellar, Blenheim
Taumata o Kupe, Auckland
The Langlands Hotel, Invercargill
The Observatory Hotel, Christchurch
voco and Holiday Inn Express Tower, Auckland
Waikato Regional Airport Terminal Resilience Project, Hamilton