Growing up in rural Ireland, Aurecon's Managing Director Tracey Ryan dreamed of a career that would allow her to be outside as much as possible.
"From a very young age, perhaps about three, I wanted to do something where I was outdoors. I always wanted to be outside, and I wanted to explore the world."
Tracey's "curious, inquisitive mindset" and love of science and technology eventually led her to the University of Birmingham to study for her Master's degree in hydrogeology. She then worked in brownfield urban regeneration projects in the 1990s.
Tracey also gained work through the World Bank, the International Finance Corporation and the European Bank for Reconstruction and Development. They funded projects and rebuilds in numerous countries, including former Soviet states.
One European Bank project was rebuilding transport infrastructure in the former Soviet country of Georgia. Tracey says the Georgians had been through a lot of hardship. But their resilience and determination were humbling.
She still has an iron rose made by one of her Georgian coworkers, who created it as a gift to show his appreciation for her work.
"I have purposefully always kept it with me," Tracey says. "In some ways, it kept me very grounded. You should always appreciate what you have, and also, they saw me as a symbol of hope to help get them on the track of where they were building back up to."
"They were just incredibly thankful, and that made me reflect a bit more on the purpose of doing what you do and why you do what you do."
Tracey also returned to Ireland, working on inner city projects in Dublin. She loves revisiting those areas to "see how projects have come to life" and how the work shaping precincts has benefited the community and the economy.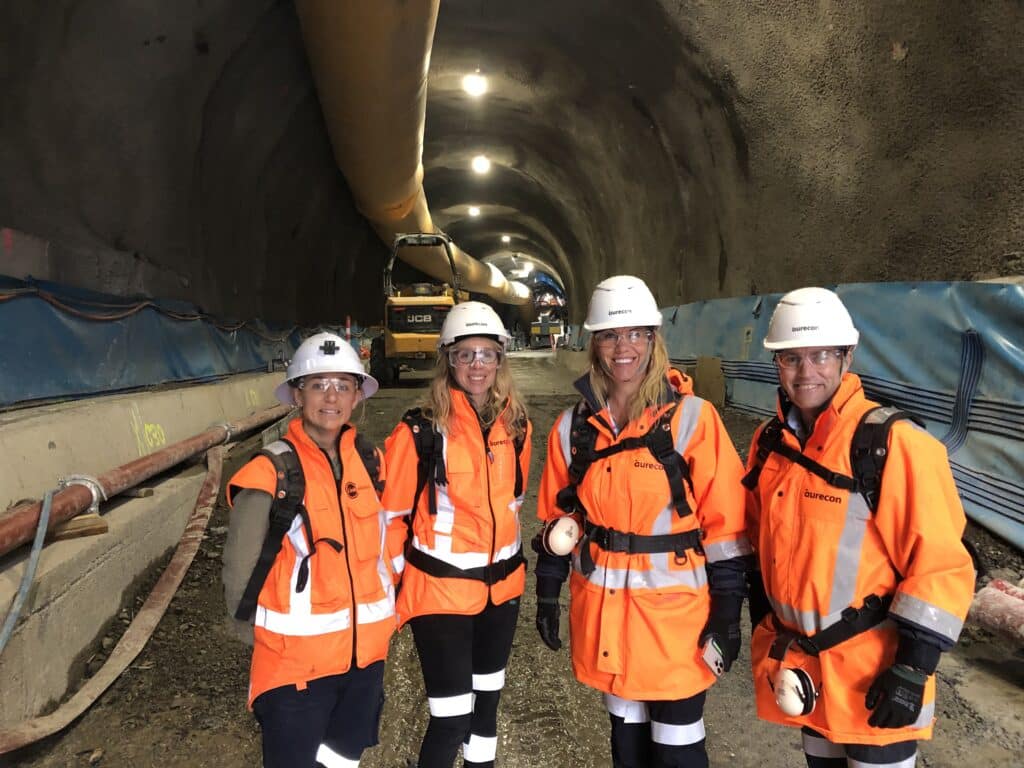 As a design, engineering and advisory company, Aurecon helps its clients tackle complex issues such as climate change risks and decarbonisation.
Tracey says Aurecon is a "purposeful organisation" working to create a healthier future for people and the planet.
She started the Aurecon role in January 2020. Six weeks later, the firm and "the world" were in lockdown. Tracey says she had some very different ideas about the role and what she wanted to do as Managing Director before Covid struck.
"But the reality is, it changed. The complexities of understanding Covid and the impact on the business and on our people – the first few months were a bit of a roller-coaster to understand and navigate it."
The most important thing is to be highly adaptive, she says.
Tracey expects the societal effects of Covid will "be with us for a while", with people thinking more about what gives them their "passion, joy or purpose".
"How does that align from an Aurecon perspective so that we support them?" she says. "It's all about people, and when they absolutely love working on our projects, that makes their purpose align with our purpose in a very impactful way."
She says the wellbeing of Aurecon's people remains one of her top concerns.
The massive disruption of Covid makes it vital for companies to provide the tools and information employees need to move forward.
She believes companies must also adapt to changes, such as flexible working arrangements, to keep teams together. At the same time, she says people need "certainty in a very uncertain world at the moment".
As a managing director, Tracey says she works for her people, not the other way around.
"Your role is to allow them to truly flourish and be at their best."
Tracey believes that skill and talent exists in everyone. An essential part of her role is shaping an environment and culture which allows everyone at Aurecon to excel.
She also takes great pride when the people of Aurecon are recognised for their work.
"It gives me great pride when I see the recognition for what our people are doing, and what they are achieving, among their peers and the industry."
Tracey says that anyone starting a property industry career should not be afraid to "seek out the opportunities, whether inside or outside your organisation".
Being "courageous and a little bit bold" can also help to advance your career.
She has seen the property and infrastructure sectors evolve significantly over her career, with better recognition of environmental effects and greater social and cultural inclusivity.
"These are no longer seen as some nice things on the side of a project", Tracey says. "They are very much integrated into what we do, and if anything, they are at the forefront."
There is more diversity in the property industry than when she began her career in the 1990s. As a female hydrogeologist in the construction and infrastructure sectors back then, Tracey says she was always "in the minority".
More work is needed though to consider what inclusivity means and how to achieve it to meet communities' needs better. Getting more Māori and Pacifica into the industry and ensuring LGBTI and other groups have a voice will drive better outcomes, she says.
"If we don't have those different ideas in the room, we are not going to be innovative. We are not going to represent people's needs and know what we need to do from a community perspective."
Change is happening, but she does wonder if it is fast enough.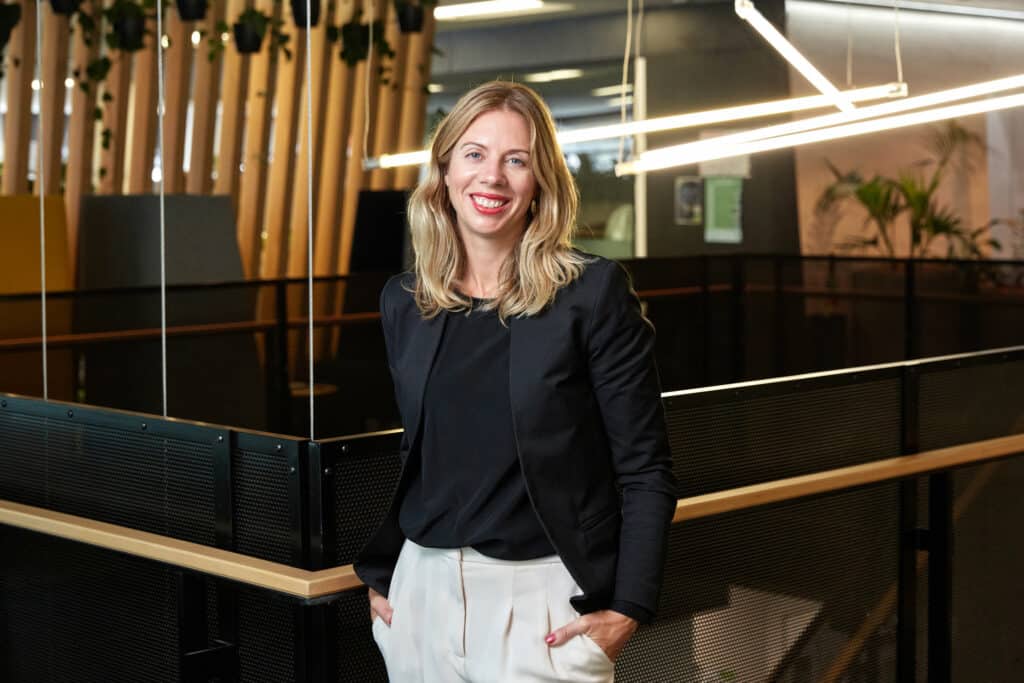 Involvement and perspective
Tracey is very involved in the New Zealand and global infrastructure and construction industry. Her current industry leadership roles include deputy Chair of Infrastructure New Zealand, co-chair of the Construction Sector Accord and chair of the FIDIC – International Federation of Consulting Engineers – sustainability committee.
"The things we are dealing with now, like climate change, the resourcing challenge and geopolitically – are global issues. There are lots of learnings we can take, but we can export it too."
With so many challenges ahead, Tracey says the Property Council, alongside other industry bodies, are doing a lot of work to address these complex challenges.
She says Aurecon's long-standing relationship with the Property Council is vital.
She says industry associations are a way of tapping into fresh thinking and connecting across the industry.
The Council allows the many facets of the property industry to work effectively together on the significant challenges it faces.
"It is a place where we can collectively debate, discuss and also learn from the people around the table."
"Being able to share and have that knowledge hub across the industry, I think that's important."
Active involvement in the Property Council also helps people across the industry to understand the "big ecosystem" they are part of. Some problems may seem sector-specific, but ultimately Tracey believes most issues are interwoven into the industry-wide challenges.
Meeting challenges with innovation
Innovation is essential to tackling the challenges facing the industry, Tracey believes. She says Aurecon encourages an "entrepreneurial" mindset around innovation.
Many shorter to medium-term headwinds are appearing, including higher inflation, supply chain issues and potential political changes. The industry must address these while not losing sight of the longer-term problems associated with carbon and climate.
"Climate change is still the biggest issue we will fundamentally have to deal with."
She notes that weather extremes from heat waves to flooding are increasingly being seen around the globe. In New Zealand, these issues are coming at a time of city population growth.
She says the positive impact Aurecon can have on communities through its projects is very satisfying.
There are more opportunities to create positive outcomes as the sector rethinks how and where things are built and integrates Environmental, Social and Governance thinking into its procurement and building practices.
"It is not just about the lowest price. It's how do we continue to raise the bar?"
Tracey says it's essential the industry continues to find new ways to decarbonise the economy by 2050.
About the City Shapers Series
The City Shapers Series is a collection of interviews with some of Property Council's most prominent members. The series is about showcasing the people in property – the city shapers who lead extraordinary teams, develop exemplary projects and demonstrate the very best of the New Zealand property industry.
We aim to highlight the property industry's role as an important contributor to New Zealand's economy and our members as 'city shapers', building communities for Kiwis to live, work, play and shop.
Author: Felicity Wolfe