The passion of JLL New Zealand's managing director Todd Lauchlan for finding and nurturing talent in the industry stands out when speaking to him.
The most important thing for any industry is "the Māori whakataukī: it's 'the people, the people, the people'."
The property sector offers many exciting career paths, but Todd believes more must be done to communicate them to young people entering the workforce.
"We are competing with other service professions for the same people," he says. "It is a genuine fight for talent."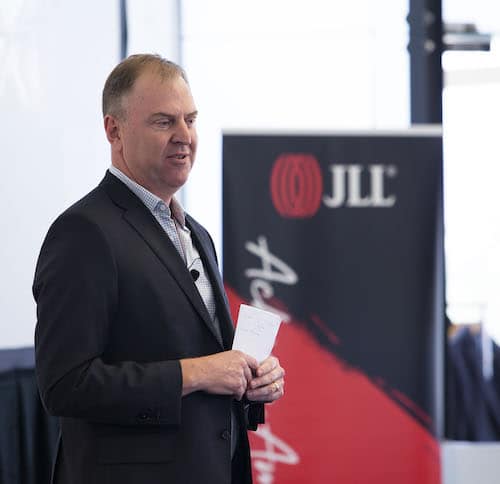 He speaks from his own experience, which he sees again as his daughter heads into a career. Heading to Canterbury University in the early 1990s, Todd says he didn't know much about the property industry, except that at that time, there were high-profile property investors such as Sir Bob Jones. This was part of what prompted him to complete a post-graduate diploma in Property and Valuation at Lincoln University following his Commerce Degree.
"I didn't have much idea about the career paths at that stage, but I thought that property was a fascinating industry."
He believes this lack of understanding remains a barrier to entering the profession among people searching for rewarding employment pathways.
Global opportunities
Todd's own career spanned the globe. Beginning his career at Jones Lang LaSalle – JLL – in Wellington, he decided in 1999 to "do the Kiwi thing" and travel overseas.
After working for some time in JLL's London office he was contacted by his former boss about an opportunity to work for the firm in Mumbai. Grabbing the chance, Todd spent four years in India before heading to Beijing. After a year in New Zealand with JLL, he took roles in property development firms in Dubai and Abu Dhabi before rejoining JLL in 2010 as managing director for Indonesia.
"I didn't leave New Zealand to go and have a career around the world, but I had opportunities, and I took them."
He says the managing director role in New Zealand in 2018 was yet another opportunity, coinciding nicely with his and his wife's desire to bring their children home for high school.
"It was a good time to come back."
Todd reconnected with the Property Council four years ago when he returned to New Zealand. He says membership is essential for him and the whole of JLL New Zealand.
"The property sector is part of the investment ecosystem. We often act as a conduit for new investors into New Zealand, so we need to be sure the Property Council is advocating for New Zealand as a good investment destination."
"It is like any organisation – the more you put into it, the more you get out of it. So across JLL, we are big supporters."
Todd is proud of JLL's involvement in the Property Council's 'Emerging Leaders' and 'Women in Property' initiatives, which focus on the new talent pipeline into the industry.
"They are industry-wide issues, but we are trying to front-foot these things. That is a lot of what we are part of the Property Council for – it's quite multifaceted."
As part of the latter initiative, JLL is committed to improving its diversity, recently achieving the GenderTick accreditation for strengthening its gender-inclusive workplace culture.
"Part of that was publishing our pay gap. We are trying to be transparent and recognise where we have challenges and how we address those."
Encouraging more women into the industry is an ongoing process. He notes that some areas, such as property law, already have many female senior partners.
JLL's own consultancy, research and marketing areas have "really good representation which probably mirrors the industry", as does its valuation business.
"We have a lot of senior females coming through, and we are determined to keep them."
"But you go over the brokerage business, and it is very, very difficult to get women into the business and keep them."
"It probably needs to be innovated a bit more. We are trying to be much more flexible around the structure of our commission package, how we pay people, what sort of training and mentoring we give them. It's making an impact, but we have a long way to go."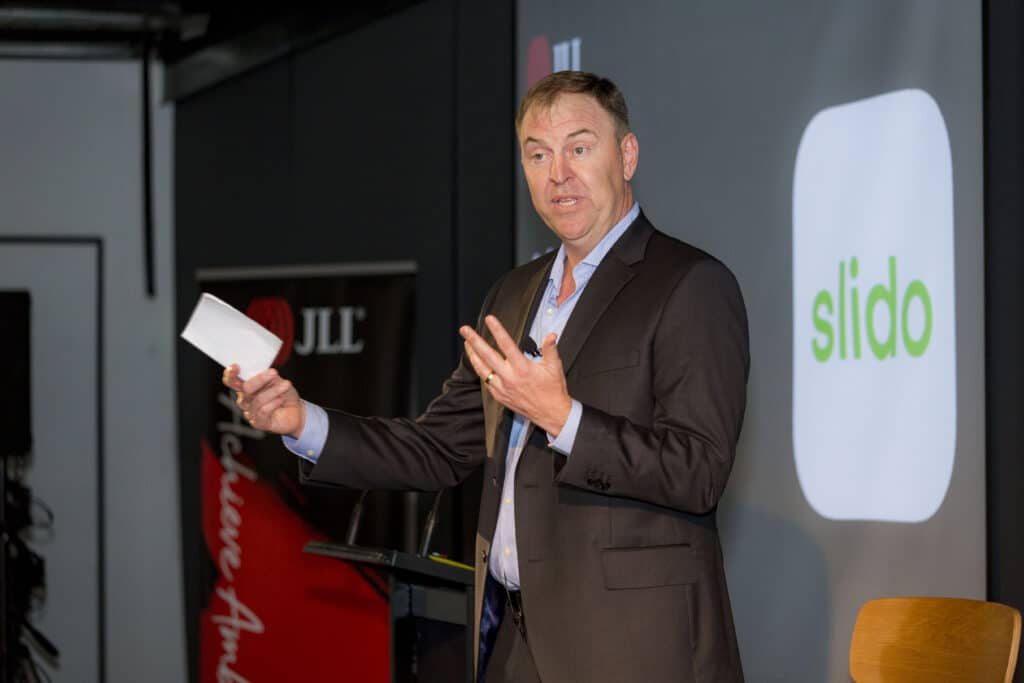 Social imperative
Todd believes JLL – and the property industry globally – fundamentally has a social imperative.
"First-principles – people have somewhere safe to live, and they participate in society, they can maintain a good level of health and wellness, they can bring up kids, and they can be safe and well. Those things are such a natural link to the property sector."
This is a challenge for New Zealand in 2022; Todd says the Kiwi mindset around the "quarter-acre paradise" ideal of past generations must change.
Higher density living in cities is required to deal with housing availability and affordability. To unlock that, "cities with great amenity are vital", allowing people to have a sustainable lifestyle with access to public transport, recreation and services.
Then there are issues around earthquake strengthening and climate impacts on properties. Todd pragmatically says not everything can be rebuilt at once. But the industry must deliver new buildings that are stronger, more efficient and allow more sustainable living.
"It is an intergenerational challenge. We really need to be carbon zero or taking carbon out of the atmosphere at a global level before we are ever going to address some of the changes that are there. That is a huge issue for years to come."
He points to one of many great projects completed in Indonesia – an 80,000,000 square metre shopping, hotel and commercial complex in central Jakarta.
JLL was involved across all aspects of the multi-phase development, from finding great housing for people requiring relocation, to leasing the new tenancies and ongoing management.
"That was a project that made the city a better place."
Challenges and Covid's impacts
Complex global supply chains will always need to be navigated, but those issues can be overcome as long as well-trained people are working on them, Todd says.
Likewise, recruiting and retaining great people is key to overcoming housing and sustainability issues.
Last year Todd appointed Jonathan Manns MBE as Head of Wellington and Head of Strategic Consultancy for JLL. Jonathan joined from London where he was Executive Director at mixed-use developer Rockwell, before which he was Head of London Planning and Head of Regeneration at Colliers. Having advised national and city leaders across the world, in addition to private- and public-sector clients, Jonathan has a strong background in planning, real estate and built environments which helps position JLL on the front-foot.
"Bringing resources in from overseas and training our own people over time will be our number one issue. Without that, nothing else works."
He says the New Zealand property industry has an advantage because the underlying market structure is robust.
Covid also caused some widespread and, Todd believes, irreversible changes to how people live and work, which the property sector must cater for.
Todd says that the 'new normal' is that people's expectations have changed.
"You have a majority of the population doing different things because of Covid. We're not going to go back to the old way of working."
More people are working remotely and flexibly, changing property needs at both the commercial and residential levels.
Todd also notes that JLL New Zealand is much more tightly connected to the rest of the world, with people globally much more relaxed about doing business digitally.
Whereas people previously travelled to buy property internationally, meetings are now conducted via Zoom or Microsoft teams – speeding up processes.
When asked if there is anything that keeps him awake at night, Todd laughs.
"No, I go to sleep."
"You have to get those eight hours. It has a real material impact on your well-being and your life."
That said, he sees significant challenges ahead, including the housing crisis and sustainability, which he says are linked.
"That is the type of utopia we should be trying to head towards because that is how great things come together."
"The challenge is on all of us to achieve that."
About the City Shapers Series
The City Shapers Series is a collection of interviews with some of Property Council's most prominent members. The series is about showcasing the people in property – the city shapers who lead extraordinary teams, develop exemplary projects and demonstrate the very best of the New Zealand property industry.
We aim to highlight the property industry's role as an important contributor to New Zealand's economy and our members as 'city shapers', building communities for Kiwis to live, work, play and shop.
Author: Felicity Wolfe