You'd be hard-pressed not to like Scott McCulloch.
Clearly, he knows his stuff, which is hardly surprising after a 34-year career in property spanning valuation, advisory, and development. Including his current seven-year tenure at Ngāi Tahu Property, Scott has his property bases covered. But more than that, he has a relaxed way of explaining the complexities of the industry that sees even those with little property knowledge nodding their head in understanding.
He makes it fun and keeps it simple, which to him, it is.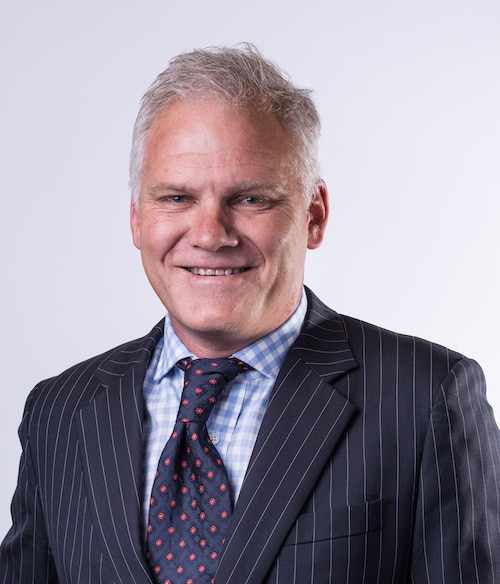 A Lincoln University graduate, Scott says his valuation and commerce degree was a good grounding for future roles, but the prospect of creating something tangible led him to his true calling in property development.
"A valuer is a consultant, offering property advice and predominately writing reports. A lot of the work is compliance-based. I felt I wanted to 'do' and 'make' more. I began to think, 'where do I fit in the property chain?', which led me to look at property development as a career. What I love about development is you get to create something from nothing. The development manager is leading the process, originating the concept, managing a team, securing funding, working with the design team, and the end product is real, tangible, and measurable."
Scott's current position as National Business Development Manager focuses on stakeholder management and deal origination, exploring development opportunities for the tribe.
A big focus for Ngāi Tahu Property over recent years has been the 'golden triangle' (the area between Auckland, Tauranga, and Hamilton, where over 50% of New Zealand's population is located). Previously, the iwi's entire property portfolio was located in Te Waipounamu (the South Island), which saw the iwi with limited geographical diversity in investment. Scott says Ngāi Tahu Property has been actively trying to build its portfolio in this region over recent years.
Of course, as an iwi, such a move requires careful and considerate collaboration with local mana whenua in the North.
Ngāi Tahu Property is part of the Ngāi Tahu Holdings Corporation, which is effectively the investment arm of Ngāi Tahu, a registered charitable trust, of which Te Rūnanga o Ngāi Tahu is the sole shareholder. Ngāi Tahu is made up of 18 different rūnanga, throughout Te Waipounamu with each rūnanga having its own shareholder representative. With a portfolio that includes tourism, farming, seafood, capital, and property, it is with some pride that Scott recounts the property unit as representing a significant portion of the group's income.
For us and our children after us
A far cry from a boom-and-bust model, Ngāi Tahu's focus is on building long-term, inter-generational wealth for its people, centred around the tribal whakataukī, 'mō tātou, ā, mō kā uri, ā, muri ake nei' – 'for us and our children after us'.
The philosophy of kaitiakitanga (stewardship or guardianship) plays a key role in the iwi's investment strategy. Clearly, they're doing something right, with the original 1998 crown settlement of $170 million being nurtured to an impressive $1.8 billion.
For Scott, the best part of his job is te tāngata, the people; he relishes getting a deal off the ground and building relationships with stakeholders.
Following guidance from its tribal leaders, Ngāi Tahu Property has made a conscious effort to increase the iwi's footprint for the long term. As Scott puts it, "develop to hold is attractive to us, and there are assets we just won't sell." The iwi is also actively looking to diversify, moving more into industrial property, staying true to this 'develop to hold' philosophy.
Ngāi Tahu is one of several iwi that has formed strong ties with the Ministry of Housing and Urban Development, expanding the offering of quality affordable housing.

One of Scott's most rewarding projects was when Ngāi Tahu joined with the NZ Super Fund and New Ground capital to develop a 115 million-dollar high density housing project in Hobsonville, Auckland. The project saw around 200 new homes developed, offering a mix of typologies ranging from apartments and terraced housing to standalone homes. A significant portion of the homes were sold to first home buyers under what was called the 'Axis Series' homes, a precursor to KiwiBuild. These were sold at a fixed price (often below the then market value) to pre-approved prospective buyers.
Accelerating industry innovation
When it comes to opportunities and threats for the industry, Scott counts technology and innovation as equally exciting and frustrating.
"I see technology as the key accelerator of change over the past two decades."
He says that access to property information is just one example of a process that has been hugely aided by technology, as has BIM modelling to plan development projects.
"On the flip side, the construction industry, in my view, has been slow to embrace new technologies and I feel we have seen minimal innovation in that area."
"Predominately we see many government contracts focus heavily on 'lowest cost' decision-making criteria. While I understand we need competitive tension, this doesn't always lead to the best project outcomes. It creates a combative culture, and especially within the main contractor environment, we see the margins they are achieving aren't commensurate with the level of risk they are taking on and as a result we have seen a number of construction companies fail. No one wins from this. While I don't have all the answers, I do think the government has to shoulder more of the risk when looking to procure for services."
"Another area where I think the government and industry could improve things would be to bring back apprenticeship schemes with the aim of getting more people employed in the construction sector. There is a chronic labour shortage, especially within the subtrades, where we have seen significant cost escalation over the past seven years."
Scott sees inequities in the areas of risk sharing within the industry.
Commenting on where he sees value in being a member of the Property Council, Scott mentions the organisations place on the Construction Sector Accord and its success in bending the government's ear, allowing the broader property and construction sector a forum to discuss ideas and improve. "I feel very comfortable having Leonie at the helm, along with the wider advocacy and Property Council team."

When asked if there was anything he would have done differently when he started out in development, he says he wished he had trusted his intuition and gut more and been less reliant on the spreadsheet. 
"In those early days, I wish I took more opportunities – and more risks – when the property market was in a negative cycle."
"While Ngāi Tahu Property has clear investment criteria and these opportunities need to meet specific development hurdles, we also have the opportunity to ride out the market."  
"Depending on scale, most development opportunities from initiation to commencement can take 2-3 years, so success is often down to timing. On any large-scale residential development, for example, you have to be prepared to ride through a few property cycles. This suits us as we are well capitalised, and adopt an intergenerational mindset when assessing opportunities."
Looking ahead: a correction, not a collapse
"We are likely to go through what I call a 'correction' rather than a 'collapse', says Scott, where we'll see asset values coming off where they have been."
"We have a highly concentrated banking system with four main banks controlling about 85% of our lending. Through the subprime mortgage crises of 2007-2008 these banks were well positioned to manage any potential market deterioration. They were well capitalised and their lending practices at the time were, in the main, prudent. I anticipate that banks will adopt a similar approach moving forward, and we will see a more normalised market over the next year or so."
Scott believes we could see see a "two tier" cycle occur, with residential and commercial office most affected. "In the wake of the pandemic I understand – anecdotally – that many companies are allowing their staff to work from home more, so it's hard to determine what the future of large office developments will be."
"Despite a lot of talk about the threat of online purchasing affecting the traditional retail model, we have found that our bulk retail property is performing exceptionally well post-COVID. I put this down to a few factors; pent-up demand after a series of lock downs, people being unable to travel and shoppers preferring to shop in a more open environment with good parking."
Frustrations and solutions
When asked what keeps him up at night, Scott recounts his key frustrations as the cost of construction, the government's inflexibility around procurement, and council compliance (Scott jokingly retorts that "this could be a personality thing to a large degree…").
So, how could government and industry come together to solve the procurement issue?
"Of course, they have to follow the government rules of procurement to provide a fair playing field; however, they should also be able to have flexibility around their procurement processes, especially if the proposition is unique and is 'best for the project'. Intense procurement processes add time and cost."

All paths lead to property
Scott's advice for those starting in the industry is simple; keep an open mind.
"I've done some presentations out at Lincoln University and the composition of the class is still heavily male. There seems to be a perception of a traditional career in property as going to university, getting a property degree, and going into either property management or valuation, but there's a whole lot more out there. You've got architectural practices, civil and structural engineering, and project management companies looking for people with property degrees."
Succession planning and broadening the pipeline of talent being attracted into the property industry is another cause close to his heart.
Scott implores those who have an interest in property development to identify a handful of respected leaders who have gone before them and align themselves to these mentors within the industry. "These people can act as a good sounding board and can offer a lot of excellent advice," says Scott.
To learn more about Ngāi Tahu Property's philosophy and current projects, click here.
About the City Shapers Series
The City Shapers Series is a collection of interviews with some of Property Council's most prominent members. The series is about showcasing the people in property – the city shapers who lead extraordinary teams, develop exemplary projects and demonstrate the very best of the New Zealand property industry.
We aim to highlight the property industry's role as an important contributor to New Zealand's economy and our members as 'city shapers', building communities for Kiwis to live, work, play and shop.
Author: Kelly Taylor