The Auckland Property People Awards returned to the stage on Friday 18 November, with 350 guests selling out the venue as we celebrated nine deserving winners. 
This year's winners are:
Hawkins Sheree Cooney Memorial Young Achiever of the Year Award
Tamzin Letele, Fletcher Construction Company (formerly of AECOM)
Tamzin has been a passionate member of the property industry for over 15 years, having demonstrated leadership on major commercial projects, residential regeneration, and development projects in Aotearoa.
Tamzin's desire and commitment to representing her community on a local and national level, and acting as a voice for those without adequate representation, is inspiring. Her dedication to grow and develop the people around her and actively giving back to her community is something to be extremely proud of.
It was Tamzin's overall achievements, work ethic, leadership and contribution that shone through. She is not only an amazing role model to other women and Pasifika in the industry but someone who is continually giving back, both within her own organisation and in a broader context.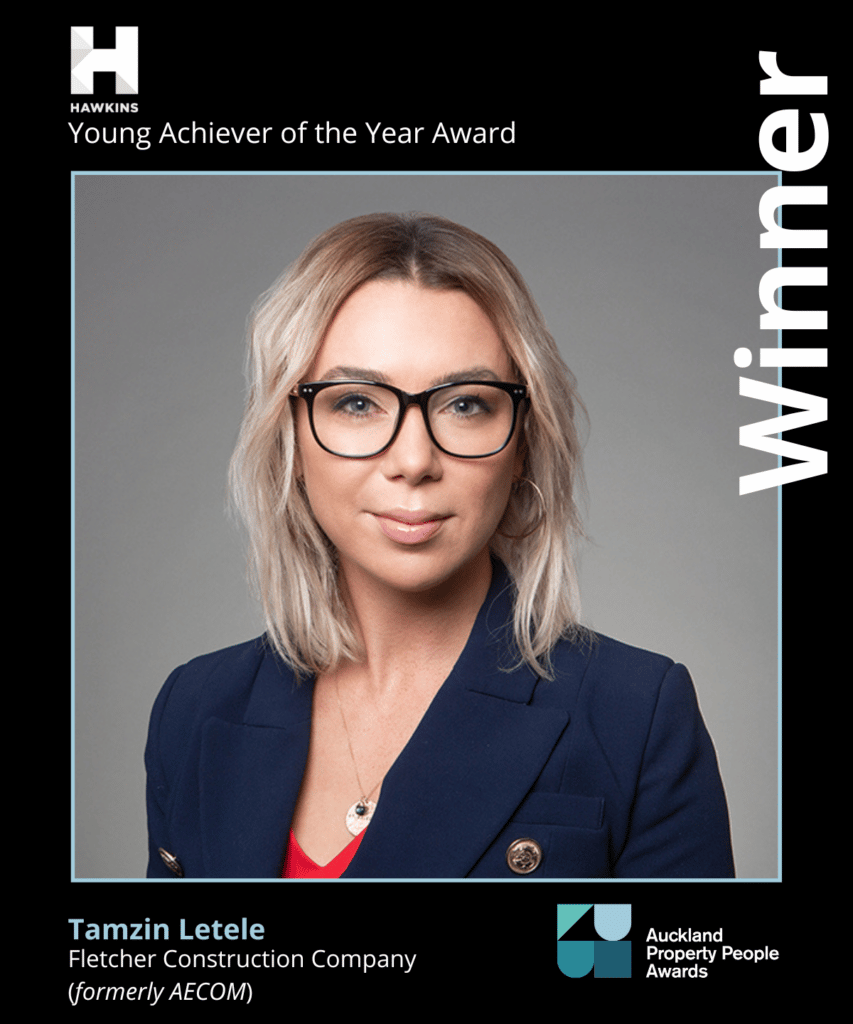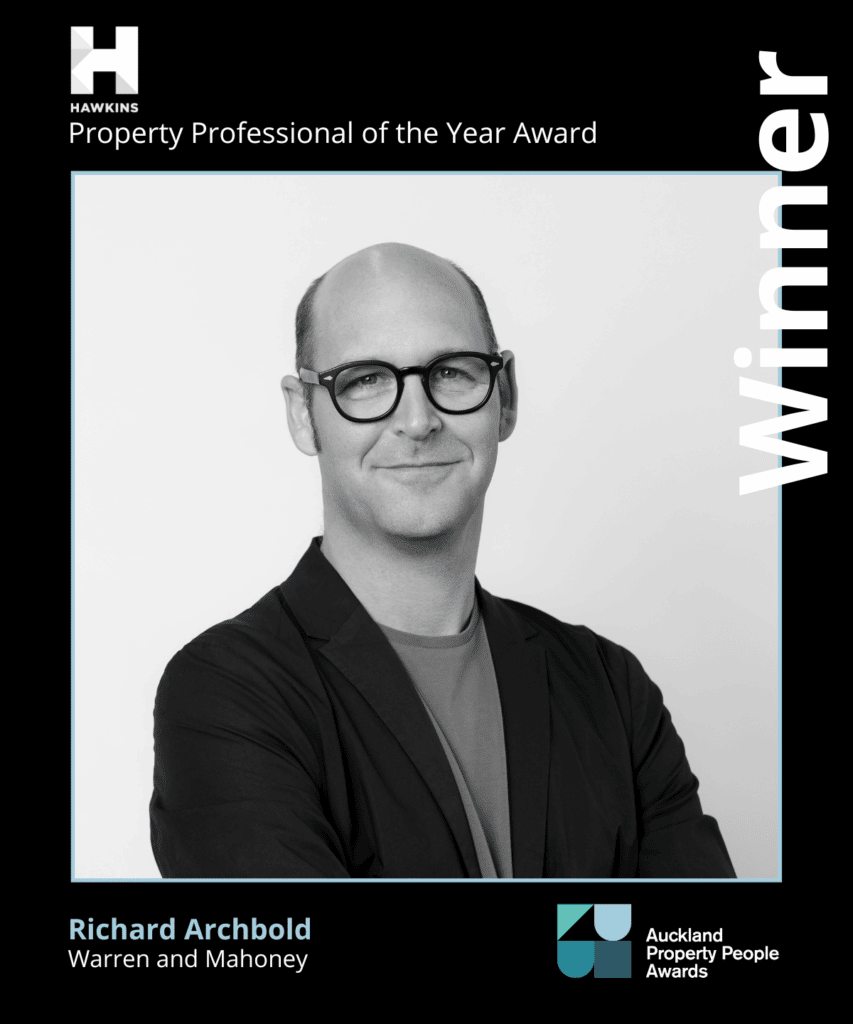 Property Professional of the Year Award
Richard Archbold, Warren and Mahoney
Arch is an expert project architect and motivated team leader having paved his way since 1999, where he began his career-long commitment to contribute to the industry and profession beyond. Arch is now Studio Co-Principal of Warren and Mahoney and has worked on some of the largest and most complex construction projects in New Zealand history.
These projects include New Zealand International Convention Centre, ANZ Centre, Horizon Hotel and Metlifecare Gulf Rise Stage One.
The judging panel commended Arch as a leader in his profession, displaying passion, commitment and consistently influencing the industry for the better.
He has a strong commitment to working in partnership with stakeholders across the property ecosystem to achieve exemplary outcomes. Arch is a fantastic ambassador for his organisation, profession, and the property industry.
Barker & Associates Best Team Award
Cooper and Company – Hotel Britomart Team
The Hotel Britomart Team impressed our judging panel with their overall collaborative approach, which enabled the delivery of the outstanding Hotel Britomart in downtown Auckland.
The team's immense efforts have effectively delivered a distinctive building for its neighbourhood, that is not only of extremely high quality and craft but immensely sustainable, being New Zealand's first certified 5 Green Star Hotel.
The collaborators on this project included Cheshire Architects, who were instrumental in the master-planning of Britomart and have been involved in every stage of its development since; Bracewell Construction, a family-owned firm who have worked with the team at Cooper and Company for over a decade; plus, Norman Disney & Young (services engineers), Holmes Fire (fire engineers) and Holmes Consulting Group (structural engineers), who have all been instrumental in the success of this development.
Strong teams are the foundation of all successful projects. This team, through their outstanding work and collaboration have gone above and beyond while overcoming challenges effectively and efficiently. The Judges praised the project team for their cohesive working relationship and successful re-invention of this prominent Britomart site.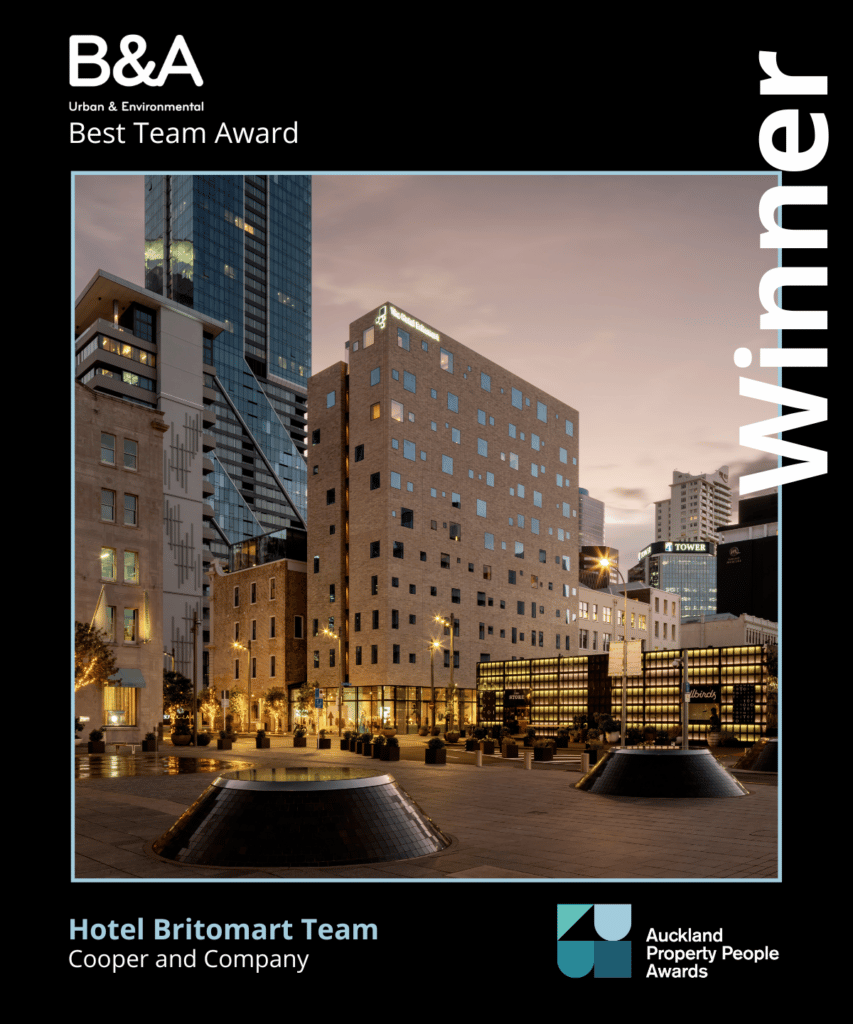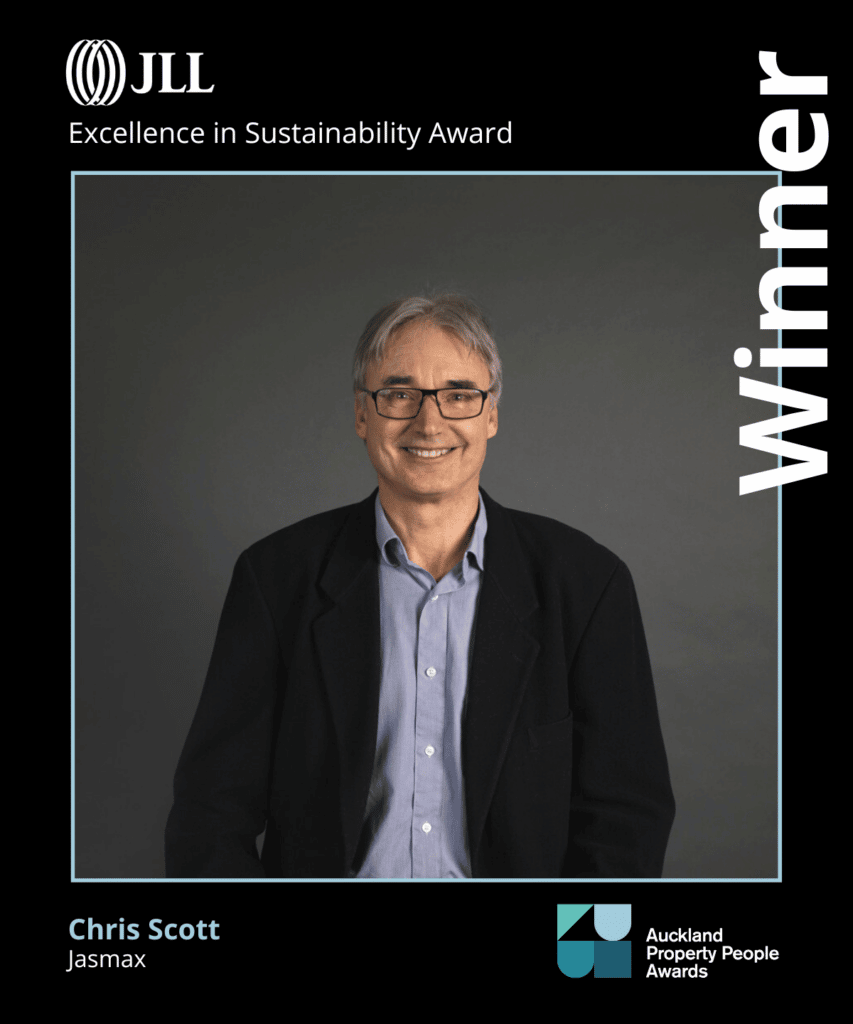 JLL Excellence in Sustainability Award
Chris Scott, Jasmax
Chris is one of New Zealand's leading education and sustainable design specialists and Principal at Jasmax. He co-leads their Net Zero Carbon Design initiative – a roadmap to achieving net zero emissions across new buildings by 2030.
Chris has brought together a team of sustainable design experts at Jasmax who have collectively set out industry-leading performance targets designed to drive the most significant sustainability changes. These targets include a 50% reduction in embodied carbon (the footprint of a building largely before it becomes operational) and a 70% reduction in operational energy usage across new buildings by 2030 – with three of Jasmax's most recent projects already achieving this target for net zero embodied carbon and are close to achieving net zero operational energy.
Chris is determined to consistently promote evidence-based design, reliance on scientific data and lobbying Government to apply an industry-wide framework to ensure carbon in buildings is measured consistently to promote best practice and achieve results.
As a result of his ground-breaking low carbon designs and trusted expertise, Chris has established long-lasting valuable relationships with New Zealand's leading tertiary education providers, culminating in a pipeline of prominent work. It is evident that Chris is an expert in applying intelligent, future-focused creative solutions that provide long-term value to these projects and the industry.
The Judges agreed that it was through Chris' leadership, innovation, collaboration, and commitment to championing sustainability initiatives that crucial environmental outcomes are being achieved.
Resene Women in Property Award
Linda Trainer, Kiwi Property
Linda Trainer has been a force to be reckoned with in the New Zealand and Australian property industry for close to 25 years. In that time, she has been instrumental in the development of more than 10 large-scale shopping centres across Australasia, managed hundreds of people, mentored many others, and been responsible for multi-million-dollar budgets.
Linda is well-known and highly regarded for her incredible leadership and management abilities. Her rapid rise through the ranks at Westfield and her dedication to achieving the highest standard and results in all her roles is an inspiration to all Women in Property.
She is highly respected as a mentor to internal and external property people, the judges said it was Linda's strong leadership skills, unrelenting drive, and impressive list of accomplishments that made her a worthy winner.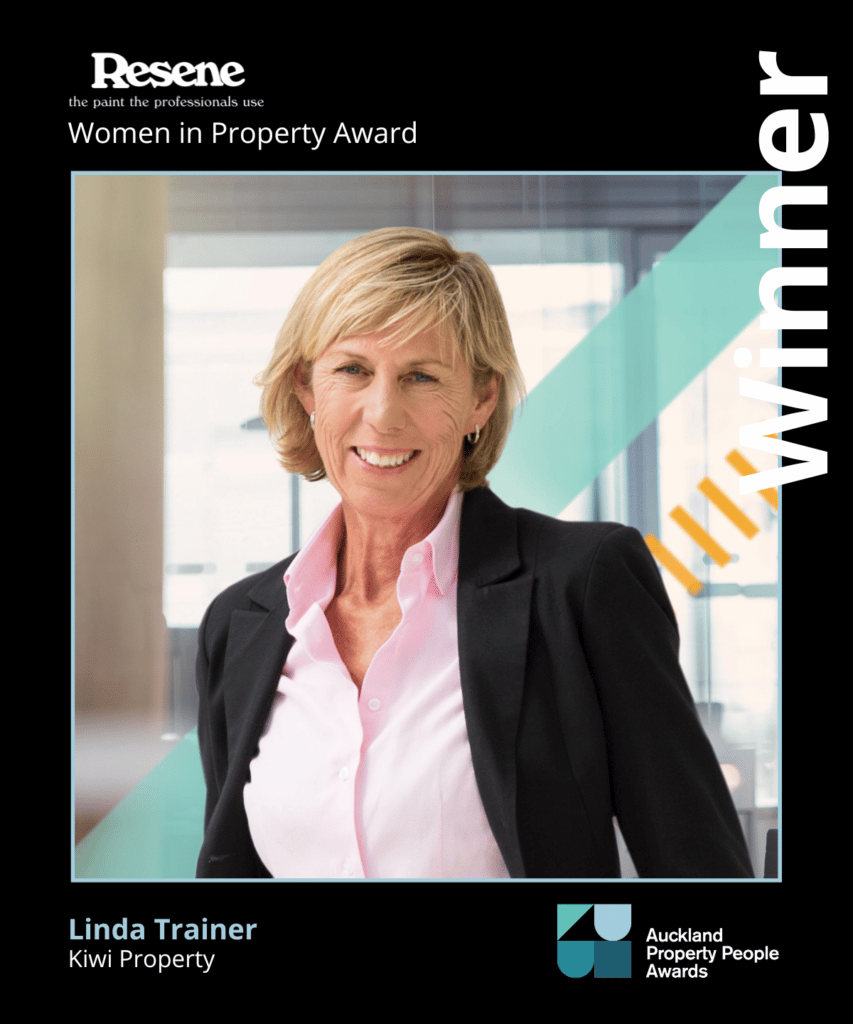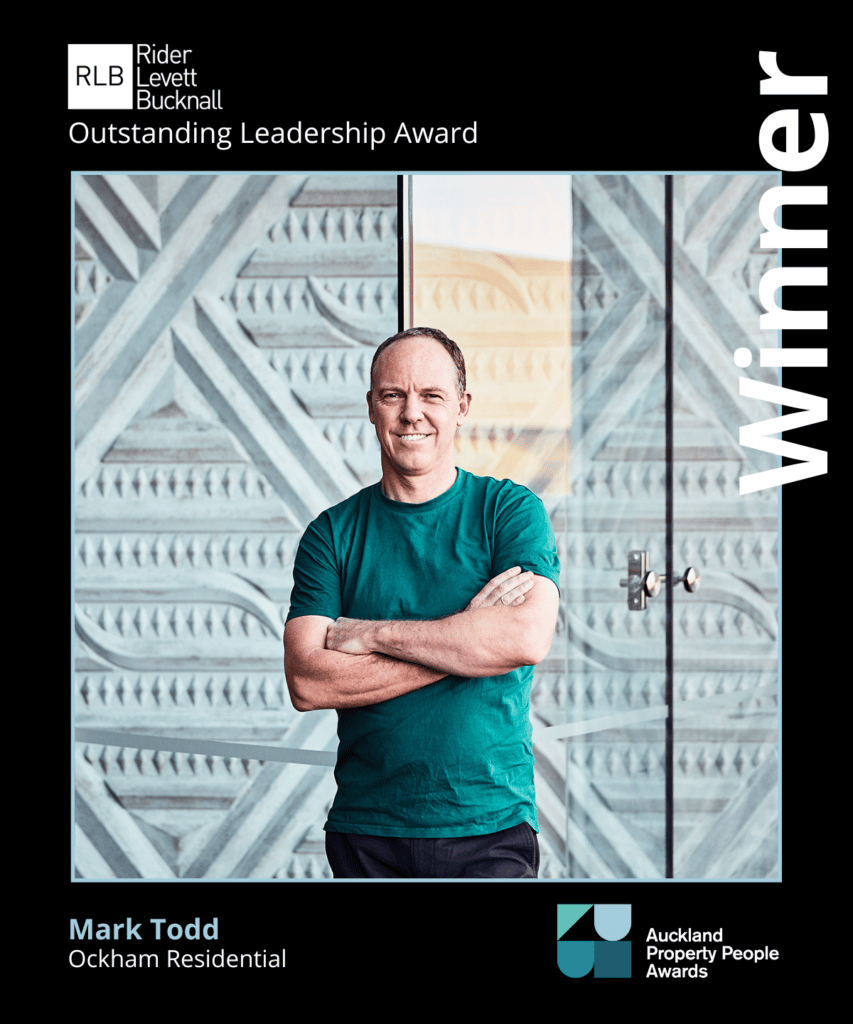 Rider Levett Bucknall Outstanding Leadership Award
Mark Todd, Ockham Residential
Mark founded Ockham Residential in 2009 alongside his brother Carl and father Lance, with an ebullient vision for the city's future. To date, Ockham has delivered 722 apartments across 13 developments, including the Home of the Year shortlisted Station Rand Modal, longlisted Bernoulli Gardens, and the award-winning Daisy, New Zealand's first 10 Homestar-rated apartment building. They have a further 702 apartments underway and are slated for completion over the next three years.
Mark has been a consistent advocate for the industry and has shown a fierce commitment to a quality, compact city through numerous submissions to both local and central government. 
The property industry has benefited from principled voices like Mark, who has pushed us forward with ideas that are new, far-sighted, and overwhelmingly for the greater good.
He has played a key role in leading our industry and made an enormously positive impact in our community. It was Mark's leadership, commitment, influence, and contribution to the many successful projects that cemented his place as this year's winner.
Martelli McKegg Long Service Award
Peter Neven, Positive Contractual Relations Ltd
Peter has worked in the industry for more than fifty years. Over 33 years with Fletcher Construction he rose from project manager on the School of Architecture to run commercial construction as General Manager NZ. 
Towards the end of his time with Fletchers, he also took responsibility for troublesome projects in Australia as the business withdrew from its international operations.  
Since retiring from Fletchers in 2009, he has received many such a call to advise, resolve, evaluate, formulate, and adjudicate on many if not most of the problematic projects throughout New Zealand. A font of wisdom, the one thing he doesn't do is pontificate – although among his many voluntary works is membership of the Catholic Diocesan Board and the Catholic Property Board. 
Always keen to develop the industry, Peter was the inaugural chair of SiteSafe and served as President of the NZIOB. He is also a member of the Institute of Directors and is the current Chair of the Registered Master Builders Association. 
Currently, Peter applies his expertise as Advisor to the Board of CMUA (Canterbury Arena), Wellington City Library rebuild (Te Matapihi), Kainga Ora (Construction Panel Advisory Board), and the KiwiRail Property Advisory Board. He is also involved as an Evaluator and Disputes Resolution member for the New Dunedin Hospital. 
Peter may have retired and adopted a lower profile – but he has certainly remained a prolific contributor to the New Zealand property and construction industry.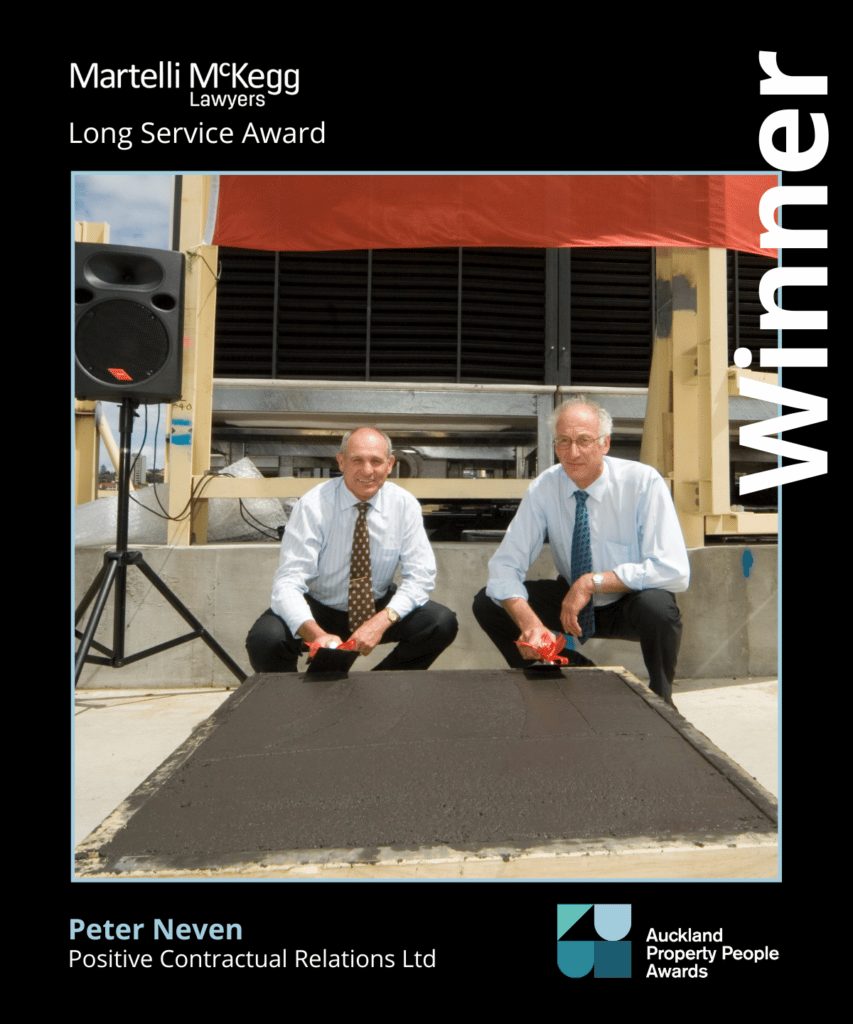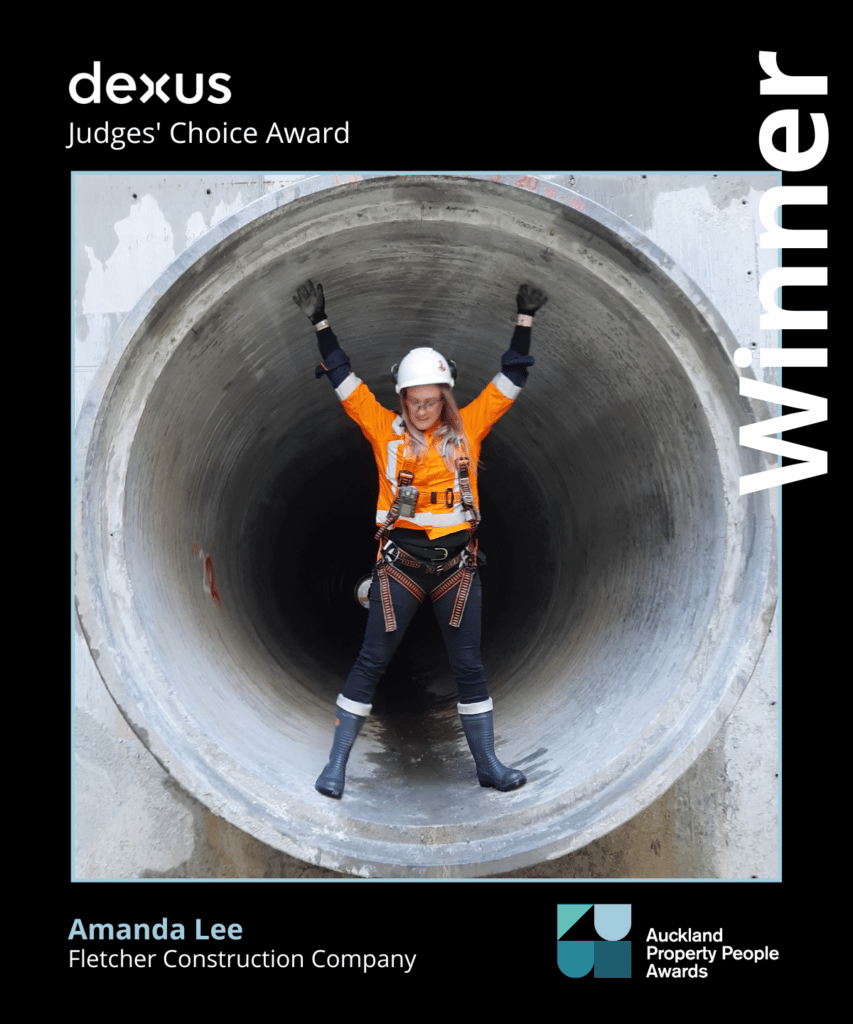 Dexus Judges' Choice Award
Amanda Lee, Fletcher Construction Company.
Amanda is a Project Engineer with three university degrees under her belt. In five short years, Amanda has achieved a great deal of respect and admiration from her team and leaders within Fletcher Construction. She is known to always lead by example even in adverse conditions, giving up has never been an option.
Her passion and high drive for success makes it clear as to how she won multiple internal Fletcher Awards that recognise her outstanding planning and excellent team collaboration on Fletcher's New Zealand International Convention Centre project from 2018-2019.
Amanda's commitment to creating sustainable and future-proofed infrastructure that further connects our country's cities and regions is inspiring. She is a positive influence and mentor to younger engineers and future industry leaders, especially to women in this profession; she says, "To survive as a woman in this profession you have to have a bit of grit and determination and stand up for what you think is right."
It was the sheer enjoyment in her work, perseverance to overcome obstacles and strong passion for lifelong learning has made her an obvious recipient of the Judges' Choice Award.
Ignite Architects Urban Design Award and Property Council New Zealand Supreme Excellence Award
Rachel de Lambert, Boffa Miskell
Creating not only practical but also appealing urban spaces has helped renowned regeneration expert Rachel De Lambert take out the Ignite Architects Urban Design Award and the Supreme Excellence Award.
A partner at Boffa Miskell, Rachel has co-ordinated several urban revitalisation and design projects and is a member of the Auckland Mayoral Urban Design Task Force and the Wynyard Quarter (now Eke Panuku) Technical Advisory Group. Her work is far-reaching. She led the Christchurch Blueprint for the Christchurch Central Recovery Plan, since 2017 she has led strategic policy development and master planning for one of New Zealand's largest brownfield urban regeneration projects, the Waimakariri Precinct. Rachel also provided urban design and landscape input for the redevelopment of Scentre Group Newmarket.
The judges praised Rachel as a pre-eminent urban designer who has had a significant impact in establishing and re-establishing many of Auckland, and New Zealand's urban spaces, work that has created an essential baseline for further regeneration projects. They cited Rachel's propensity to give a lot back to the cities that she works with and pushes her clients to create good public spaces too.
Property Council chief executive Leonie Freeman says, "Rachel's work is integral to development's creating focal points through urban design, setting a high standard for others to follow."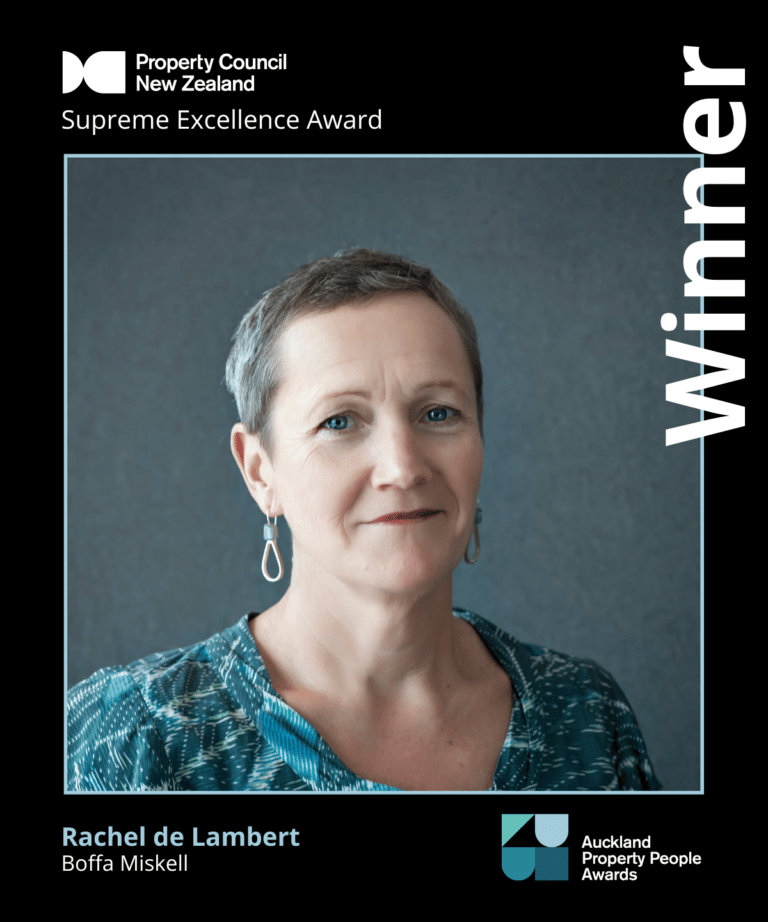 Congratulations to all the winners and a special thank you to our incredible sponsors, Bayleys, Barker & Associates, Dexus, Hawkins, Ignite Architects, JLL, Martelli McKegg, Resene and Rider Levett Bucknall, without whom this fantastic event wouldn't be possible.