Repurposing an existing building may be the most cost-, time- and energy-efficient form of development, but it comes with challenges. And converting 4 Viaduct Harbour Avenue, Tāmaki Makaurau Auckland, from an office block to a hotel presented plenty of them.
Built in 2001 as one of five classically designed buildings, the prominent corner property on leasehold land, was covenanted to restrict external alteration. That went right down to the colour and overall structure, so  changes could only be minimal.
The vision was to deliver a hotel that engages with its commercial and residential neighbours, while complementing and enhancing the precinct tucked between the Viaduct Harbour and Wynyard Quarter.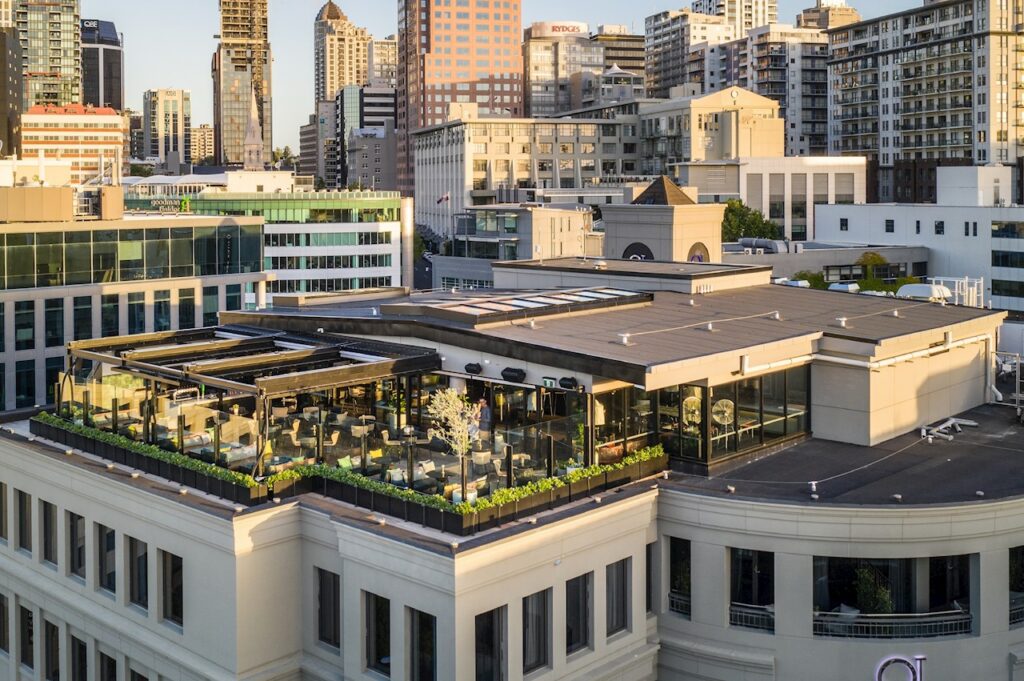 "Wanting to still make a statement, we worked with the architect and interior designer to retain and maximise the building's features inside and out, and create an inviting interior that reflects the proximity to the sea through artworks  and design," says Brett Russell, managing director of Russell Property Group.
With an oyster as the narrative – a shell hides the luxury within. The hotel's connection to the harbour is made through colour, art, carpet, wallpaper, bespoke fittings and surfaces. Exposed concrete ceilings and natural textures  give the rooms distinct character.
The end result is a five-star, 150-room boutique hotel, with two special hospitality offerings. Esther restaurant and the Rooftop at QT have enlivened  the precinct and remain sensitive to the history of the area they inhabit. Outside, the ground-floor extension to Esther has brought the plaza to life. Lights and movement have transformed the area and increased activity has created a greater sense of safety at night.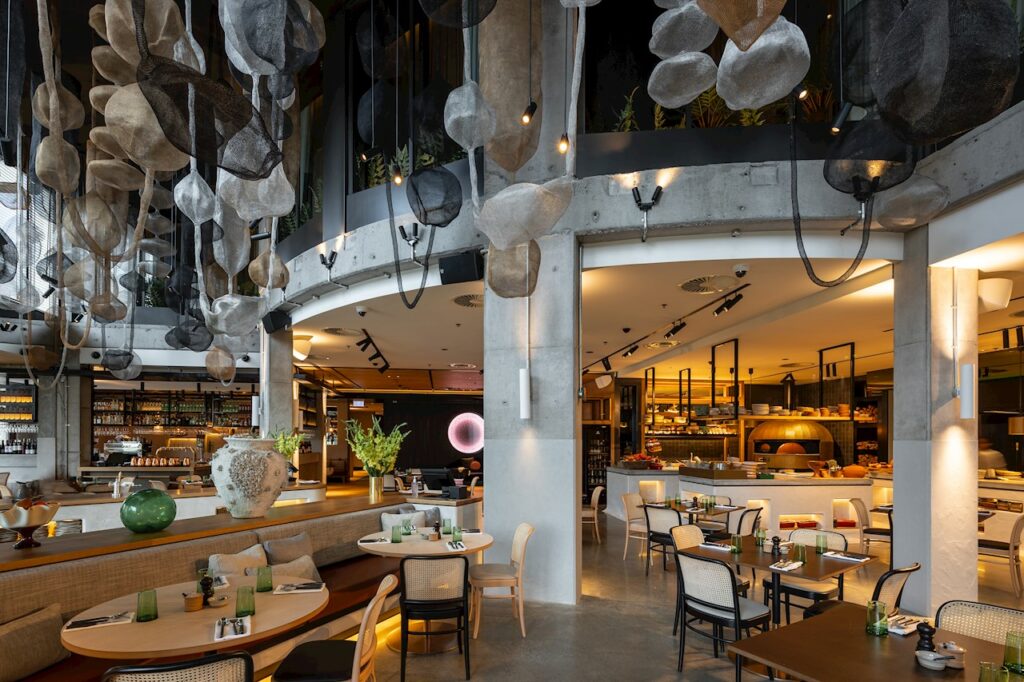 To begin this remarkable rejuvenation, the building was laser-scanned,  which gave the lead consultant the ability to provide accurate base modelling and documentation. All consultants and subcontractors had constant access to live design information through 3D co-ordination. Through mobile devices, they could discuss co-ordination issues in context, resulting in faster decision making and changes.
The L-shaped building was stripped to only lift and stair cores. Rooms were then designed to abut existing exterior curtain walls for fire separation and the rebuild began. Curved walls in hallways provide privacy and interest, but are functional in supporting fire and acoustic protection within the existing building envelope.
The street entry has been enhanced with planters and a dramatic, illuminated portal with a cantilevered canopy and full-height sliding timber doors.
The exterior was enhanced with the addition of window boxes, planters and rough-cast render to the ground floor. Alucobond and black mesh cladding were added around and above the new restaurant creating a statement entry. Seismic strengthening was also undertaken.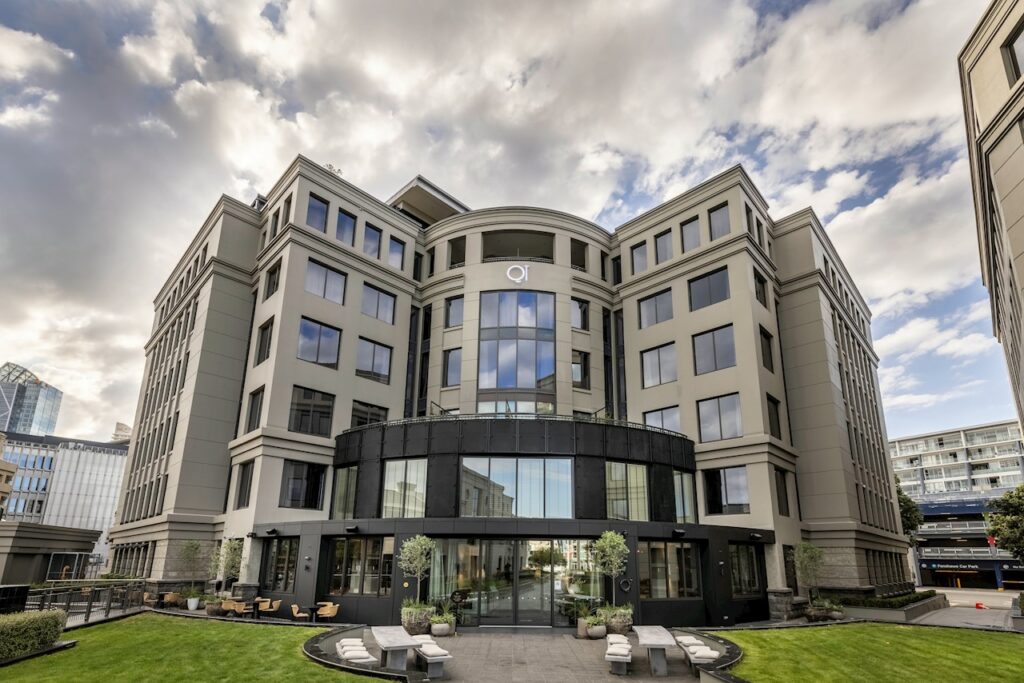 From the start, sustainability was a major factor in the project. The building envelope was retained, service cables and cabinets reused, and waste was recycled where possible. Natural gas boilers work with the heat-recovery system to preheat rooms and are programmed for efficient operation during low and peak demand.
Shower heads, tapware and cisterns designed to minimise water use were installed, and separate north and south air-conditioning zones allow the temperature to be adjusted when the sun warms the northern part of the building, without affecting comfort levels to the south.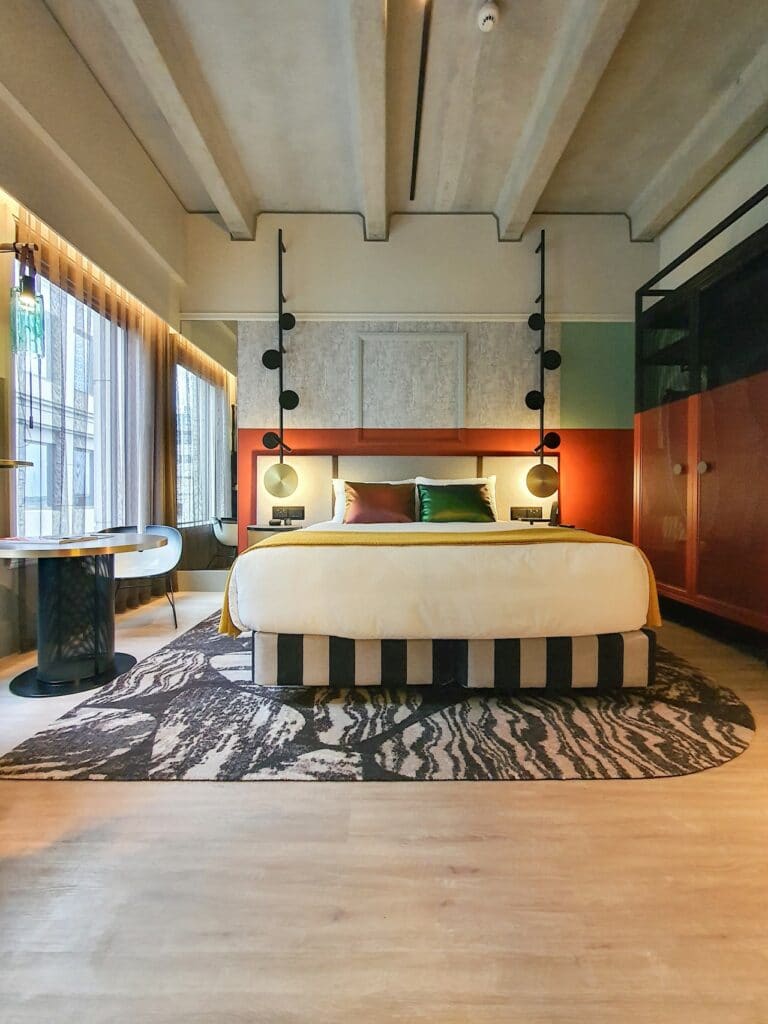 Fresh air is warmed by heat recovery from the bathrooms, while auto-shading 'smart glass' in the restaurant reduces cooling demand without interrupting views or light. Low-volume kitchen extractors minimise ducts and energy consumption. LEDs and DALI (Digital Addressable Lighting Interface) controls in the restaurant, conference rooms and bar help conserve energy.
Part of the attraction of this development was the condition and classic style  of the exterior. Minimal modernisation was required to set it apart from similar neighbouring buildings. The team used lighting, planter boxes and revamped entries to create a statement that remains sympathetic to its surroundings.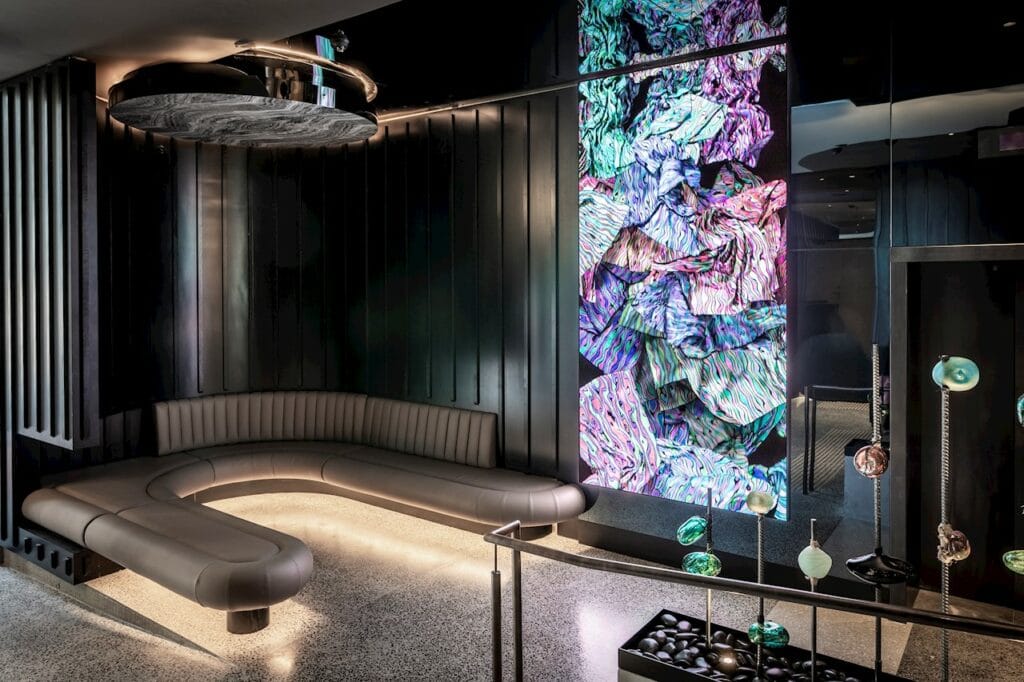 QT HOTEL AUCKLAND
4 Viaduct Harbour Ave, Tāmaki Makaurau Auckland
OWNER 4VH
DEVELOPER, PROJECT MANAGER RUSSELL PROPERTY GROUP
CONSTRUCTION DOMINION CONSTRUCTORS
ARCHITECT JASMAX (BASEBUILD)/NIC GRAHAM & ASSOC (INTERIORS)
SERVICE, MECHANICAL ENGINEER AGILE ENGINEERING CONSULTANTS
STRUCTURAL ENGINEER BGT STRUCTURES
QUANTITY SURVEYOR BARNES BEAGLEY DOHERR
OTHER CONSULTANTS STANDING ROCK TECHNOLOGIES, CROSSFIRE
Be part of the biggest night in property
Act fast - only 50 tickets remain for 2022 Property Council new Zealand Rider Levett Bucknall Property Industry Awards!