A sell-out crowd packed Te Papa Museum of New Zealand on Thursday 17 November for the Wellington Property People Awards. After a two-year hiatus, the awards were incredibly well received, with five incredible winners.
This year's winners are:
Beca Young Achiever of the Year Award
Sarah Courtney, Catalyst
Sarah is a National Lead – Project Delivery & Associate for Catalyst. Her love for all things property started in 2011 following the successful completion of a master's in architecture. She joined the Catalyst team in 2014 where, as a member of the project management team, she managed the successful turnkey delivery of over 200 fitouts across Wellington.
Sarah's natural leadership and organisational skills have seen her take on roles as a team leader, project lead and culminating in a late 2018 promotion to associate, is now an integral member of the senior leadership team.
Highly respected as a mentor to new grads and emerging leaders, the judges said it was Sarah's strong leadership skills, proactive nature, and well-rounded list of accomplishments that made her a worthy winner.
Sarah embodies what this award seeks to recognise and celebrate and is without a doubt a leader of the future.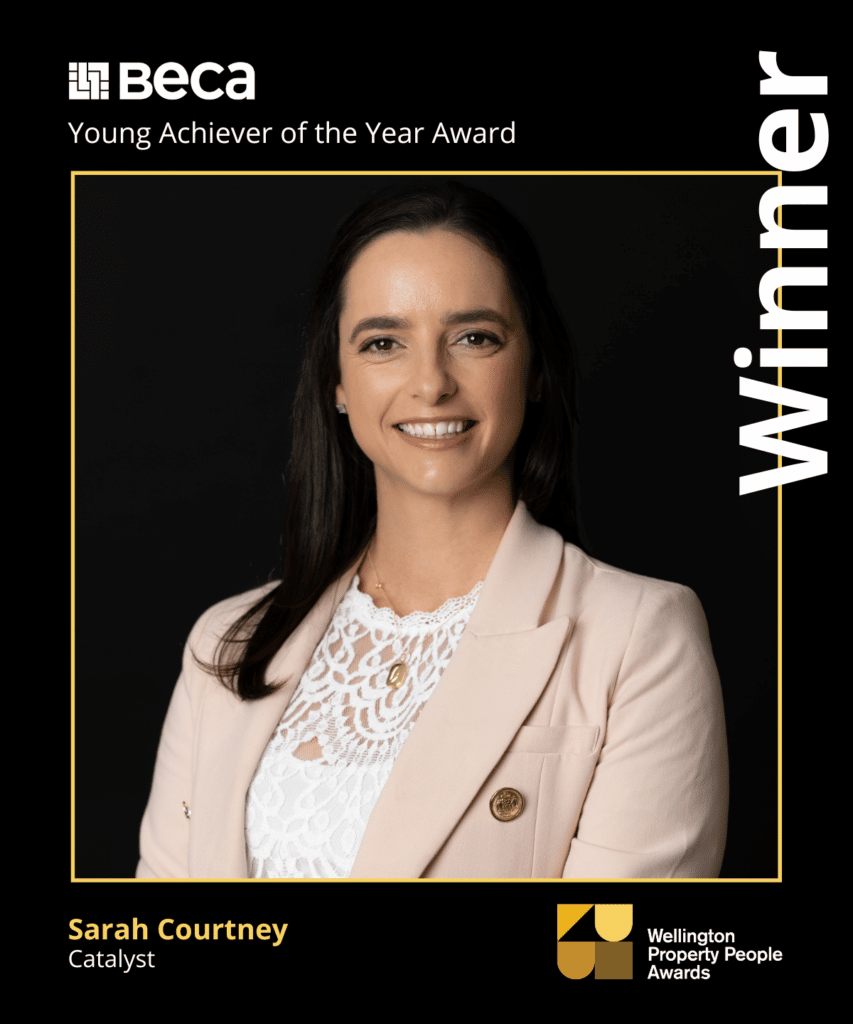 Catalyst Property Professional of the Year Award
David Jones, Stellar Projects
A qualified and practicing chartered surveyor, David's career has focussed on supporting communities in their Urban Regeneration initiatives.
He has 25 years of experience in the public and private sectors, in both the UK and New Zealand and is a valued industry contributor, both locally and nationwide.
The Judges commended David's wider property industry leadership, along with his innovation and contribution, which continue to shape the Wellington landscape and community.
Colliers Property Best Team Award
Cuba Street Refurbishment Team
Through commitment and collaboration, Wellington's old Farmers department store has been transformed into one of the City's largest open-plan commercial spaces and given Greater Wellington Regional Council a modern and vibrant new home.
Led by main contractor LT McGuinness, the project team included Jigsaw Property, Willis Bond, TSA Management Ltd, Athfield Architects, Dunning Thornton Consultants, BlackYARD Engineering, CORA, Michael Stretton and Rider Levett Bucknall.
This multi-disciplined project team partnered and promoted trust in each other throughout the project to deliver the best possible outcome for the client and Cuba Street site. The team went above and beyond to achieve excellence through innovation, clever and sustainable design, and exceptional project management, coming in on time and on budget.
The Judges praised the project team for their cohesive working relationship and successful reinvigoration of this landmark site.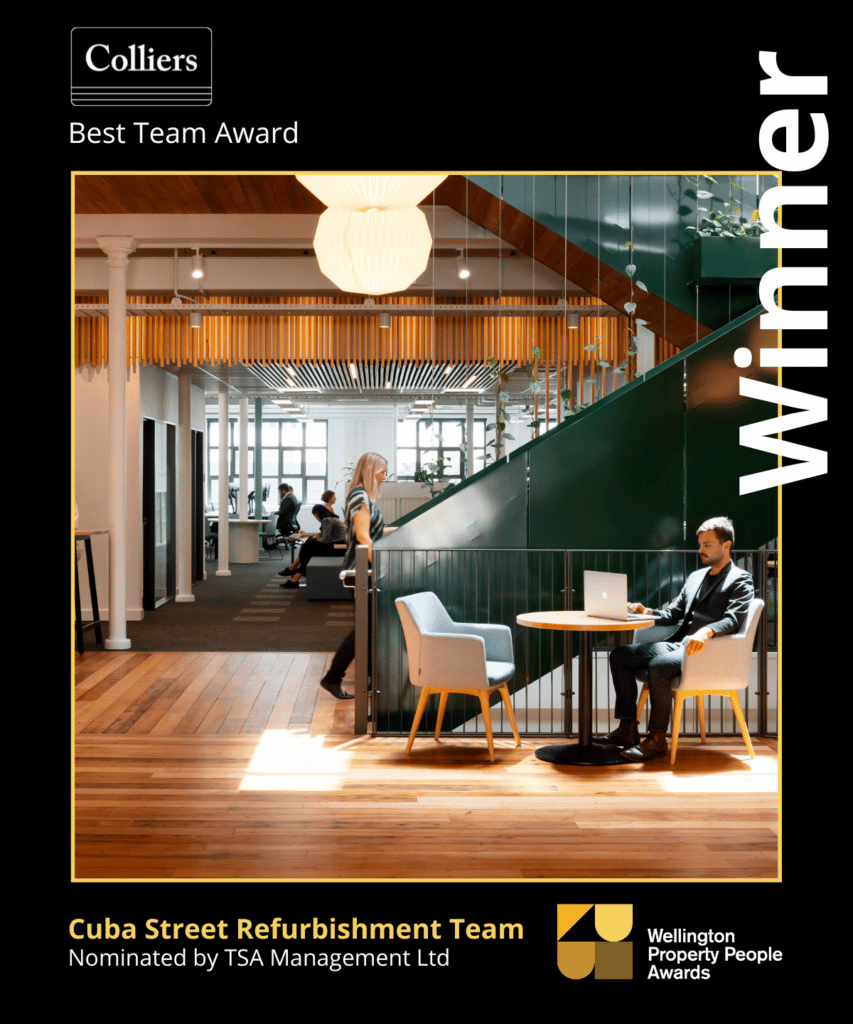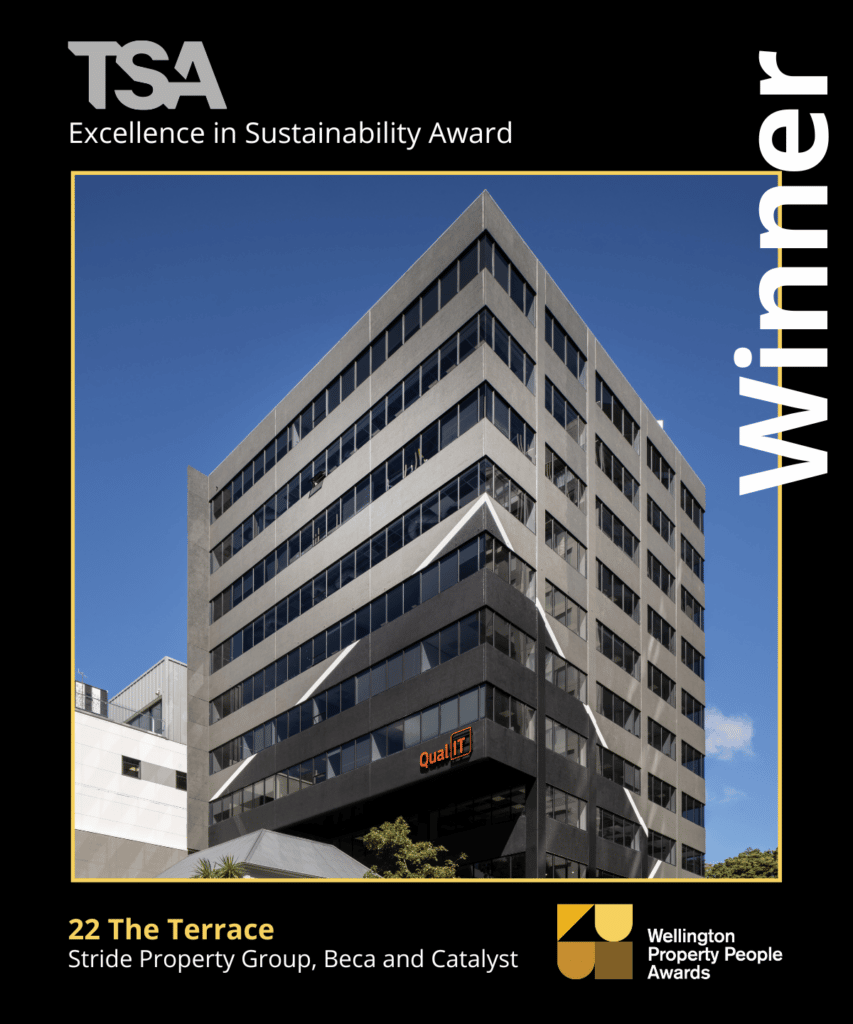 TSA Management Excellence in Sustainability Award
Stride Property Group, Beca and Catalyst for 22 The Terrace
The revitalisation of 22 The Terrace, also known as Qual IT House, demonstrates how a seismic strengthening project of a stereotypical Wellington commercial building can present an opportunity to significantly decarbonise and improve environmental performance.
General Manager Development for Stride Property Group, Mark Luker put it best when he said: "The great challenge for the project team was to destroy the 'myth' that good sustainability outcomes only come with a heavy price tag, this team has dissolved that myth."
The submitting project team of Stride, Catalyst and Beca have come together to achieve a superb outcome in this refurbishment, with a high 5-star Green Star and 5 Star NABERSNZ base building rating targeted for ongoing energy performance.
Already an award-winning project, having picked up excellence awards in two categories at the 2022 Property Industry Awards, the judges commended the project team on their commitment to sustainability despite the remarkable challenges posed by such a retrospective upgrade.
One Eighty Recruitment Outstanding Leadership Award and the Greenwood Roche Supreme Excellence Award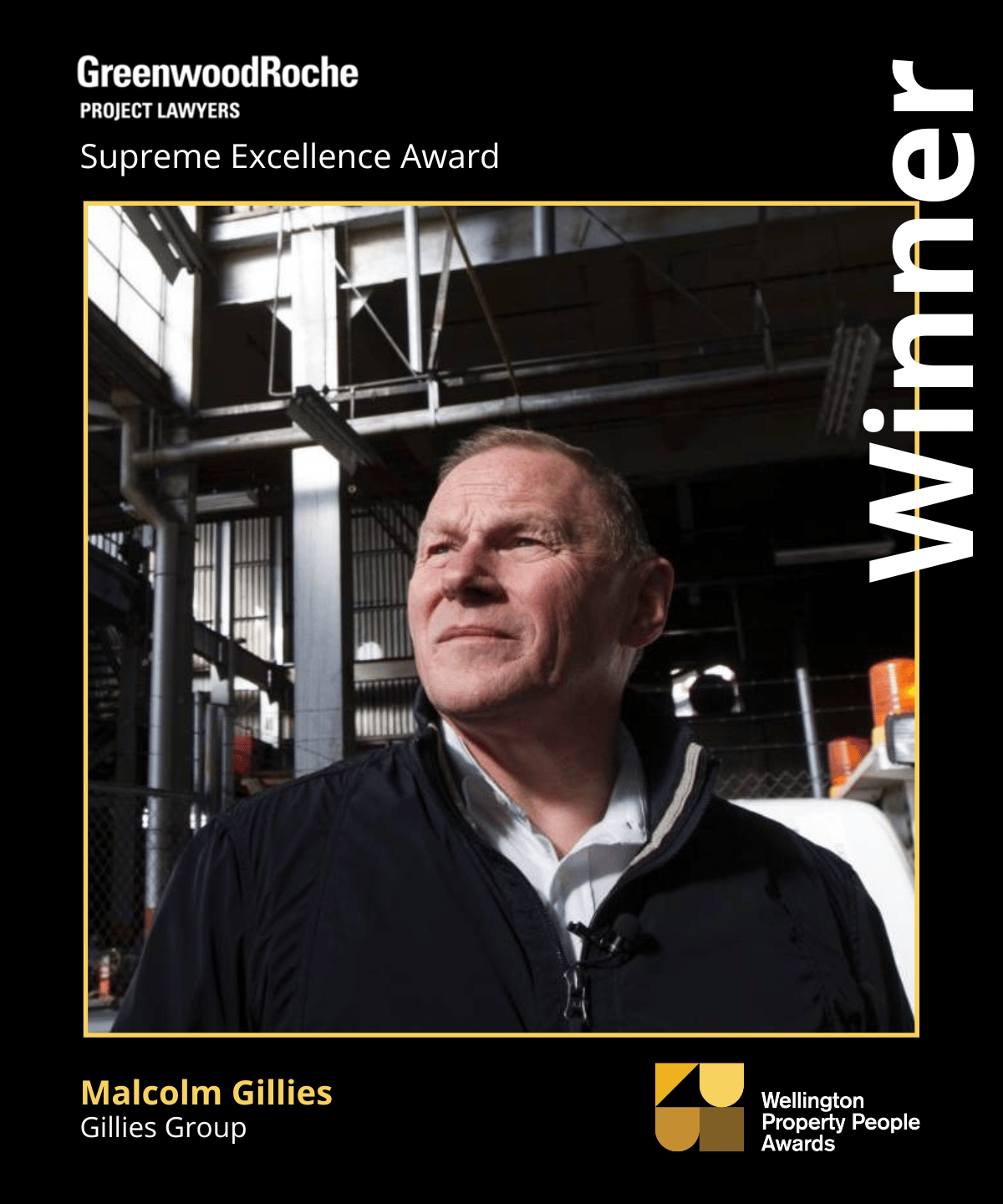 Malcolm Gillies, Gillies Group
As the winner of tonight's Outstanding Leadership Award and the Supreme Excellence Award, the judges would like to specifically recognise Malcolm's wider vision and contribution to the property industry and Upper Hutt community.
Property Council New Zealand's core purpose is Together, shaping cities where communities thrive, a purpose Malcolm personifies. The innovation and commitment shown by Malcolm and Gillies Group demonstrate how wide the impact we as leaders in the property industry can have.
Malcolm began his working career as a welder in the Dunlop's factory in Upper Hutt, before going on into insurance and eventually, real estate. After taking over the Professionals Real Estate franchise for Upper Hutt he transformed the business, growing the franchise to 50% market dominance in Upper Hutt. This rapid success was a direct reflection of his relentless drive, hustle, and uncanny ability to find and do deals.
In the early '90s, Malcolm stepped into the development space. As the mastermind behind Totara Park, Riverstone Terraces, and South Pacific Industrial Park, at this point, he has been almost single-handedly responsible for the revival of Upper Hutt City.
But the story doesn't end here, partnering with long-time business colleague Kevin Melville, he has Wallaceville Estate, The NZ Central Institute of Technology and Plimmerton Farm all in the works.
It's hard to think of anyone who has done more for the Wellington property industry than Malcolm. His vision has led to significant job creation and economic prosperity for the region.
Malcolm has created a legacy with many more chapters yet to be written and we cannot wait to read the rest.
Congratulations to all the winners and a special thank you to our sponsors, Greenstone Group, Beca, Boffa Miskell, Chow:Hill Architects, CKL Property Professionals, Foster Construction, Harrison Grierson, Hawkins Construction, Rider Levett Bucknall, Veros Property and Bayleys, without whom this fantastic event wouldn't be possible.